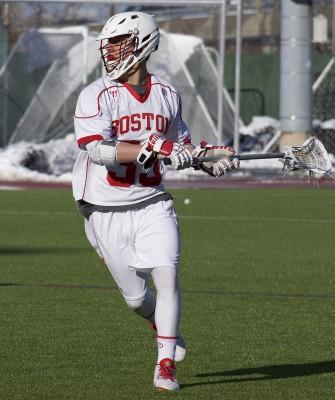 In Friday's win over the University of Massachusetts Lowell, the Boston University men's lacrosse team learned an important lesson.
After entering halftime with a 4-1 deficit to overcome, BU (2-0) received offensive contributions from all over and saw its defense and goalkeeper all but shut out the Riverhawks (0-1) for the last 28 minutes of the contest to take an 8-5 win.
It was a win that showed resiliency, but also one that taught the Terriers that nothing will be given to them, BU head coach Ryan Polley said.
"Every team is going to come out and play their hardest and expect to win … We're not good enough, and I don't know if there's any team that's good enough to just show up and win the game and just go through the motions," Polley said.
Now, as they prepare to face High Point University Tuesday, the Terriers know that it's not necessarily the best team that wins the game, but the one that plays the best on the given day. They responded well, Polley said, to that caveat on Friday in the final two quarters and can take that into their next contest.
BU has not yet seen the Panthers (0-1) in its two-plus years as a varsity program, and the trip to their campus in North Carolina will be Polley's first as well.
"It's going to be a tough environment going down to North Carolina and flying and playing away for the first time," he said. "I haven't been there, but I've heard they've got a great crowd, and it's going to be a great environment."
The Panthers, who were the preseason pick to win the Southern Conference, have played just one game so far this season. They fell 17-6 Friday to No. 3 Duke University, a team that's perennially in contention for the National Championship. While the score was one-sided, High Point's key contributors revealed what could be in store.
Attacks Dan Lomas and Matt Thistle, the team's second and third highest scorers from a year ago, are off to a hot start in 2016. Lomas potted two of the Panthers' six goals against Duke (2-0), building on his 43-goal campaign last season, and Thistle, who was good for 31 markers and 21 assists a year ago, tallied a goal himself in the loss.
Even though Duke the back of the net 17 times, High Point goalkeeper Zach Tuell recorded 12 saves. The sophomore appeared in five games last year and posted a .667 save percentage, registering 52 saves and allowing 26 goals en route to a 4-0 record.
"They are a great team, they have a great attack and they have a great coaching staff and they're good facing off and their goalie played great against Duke, so we're just expecting a great game," Polley said.
The Terriers have a quick turnaround having played Friday, but Polley said it's not a concern heading into the upcoming contest. BU practiced "really light" Saturday, went hard Sunday like it would for a typical Thursday practice, then traveled Monday and went through something a little harder than a walkthrough.
Polley added that High Point also played Friday, so there's not much of an advantage in that regard outside of travel.
"We're not worried about that," he said. "We're just worried about showing up and taking it one play at a time and just getting better from last weekend."
Polley didn't offer comment on whether junior midfielder Cal Dearth and sophomore attack Ryan Hilburn would be back in the lineup Tuesday, but said he anticipates a solid performance from both sides.
"I'm expecting High Point to play a great game," he said, "and it's going to be on us to kind of respond and continue to get better as the season goes along."