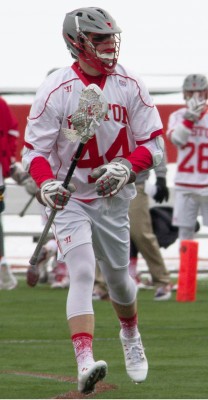 The Boston University men's lacrosse team relied on an efficient offense and stellar goaltending performance to hold off High Point University and earn a 13-10 win Wednesday afternoon.
The win gives the Terriers their first 3-0 start in program history, as they're looking to improve their 6-8 record from a year ago. Freshman attack James Burr led BU in scoring with three goals, and sophomore midfielder Greg Farris and junior midfielder Sam Tenney notched two goals apiece.
Another caveat was that BU was without the services of junior midfielder Cal Dearth and sophomore attack Ryan Hilburn — two of the team's leading scorers from a year ago.
"We're feeling great right now," head coach Ryan Polley said. "We had a lot of guys step up and play big. Obviously Cal and Hilburn didn't play, and it gave some opportunities to guys … to make plays and step up. This was a big one for us."
The game started off brightly, as Burr scored 1:16 into the first quarter and BU never looked back, jumping out to a 6-1 lead. Five different Terriers scored in the quarter, but the junior goalkeeper Christian Carson-Banister made the difference. He finished with 18 saves in the contest and kept High Point's (0-2) high-octane offense under wraps.
"I think we did a nice job challenging their shots, but certainly Christian made five or six saves that were just incredible," Polley said. "It allowed us to stretch the lead early when he was making big stops, and in the second half, High Point got rolling because they're a great offensive team and well coached. But Christian stuck in there and made some spectacular saves."
High Point managed to claw back some just before halftime, and the Terriers took a 6-4 lead into the locker room. Despite the small setback, BU erupted in the third quarter and took ahold of the non-conference match once more.
Freshman midfielder Brendan Homire, junior midfielder Jack Beall and junior long stick midfielder Greg Wozniak all scored their first goals of the season, and Tenney's two finishes gave BU an 11-7 lead.
The Terriers relied heavily on the midfield line of Homire, Tenney and junior Adam Schaal throughout the game, as the group combined for 14 of the team's 31 total shots. That production translated to three goals and three assists from the group that came together just last week, and Polley had nothing but praise for their efforts.
"I thought Homire had a great game dodging and was really unselfish," Polley said. "With Schaal, I don't know if he'll show up on the stat sheet, but he initiates so much for us. He might not get an assist, but on the creative side, he gives us so much with groundballs and being selfless. Then with Tenney, he scored two big goals."
The fourth quarter was an intense one, as High Point fought back through the sticks of senior Dan Lomas and junior Michael LeClair. However, a late Burr dish iced the game and gave BU its first road win of the season.
Looking ahead, BU is now in prime position to enter the national rankings for the second time in program history, but Polley didn't want to look too much into that. Rather, he was proud of the way his team improved from its 8-5 victory over the University of Massachusetts Lowell Friday.
"We're just pleased because we got better, because we didn't get better during the Lowell week," Polley said. "We focused on getting back to ourselves and working hard and guys stepping up to prove they belong … I just felt we got better. [The] guys were really excited to play, and it was a really nice program win."