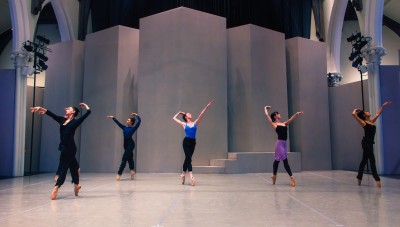 In the world of ballet, tutus and pliés usually take center stage, not social and political themes. But José Mateo, the artistic director and founder of the José Mateo Ballet Theatre, is using the stage to fuse art with history and culture, as illustrated in the company's newest production, "The Cuba Files."
"The Cuba Files" is a concert of three ballets that each highlight a different aspect of Cuban culture through various narratives and music from Cuban composers. Running from Feb. 12 to March 6 at the Sanctuary Theatre in Cambridge, the show transports the audience to unveil the turmoil of a nation.
According to the press release, the first two pieces, titled "Escape" and "Danzones Baleticos," have been performed since 2004. The final performance is a Mateo original set to make its first appearance on the stage to expose the audience to the richness of Cuba's history through the abstractness of Mateo's choreography.
"There's a lot of attention being drawn to the situation in Cuba, and the situation in Cuba really speaks to a lot of universal issues" Mateo said. "I thought it was a legitimate and also very interesting way to reach people with issues that matter to them."
Born in Cuba, Mateo moved to the United States with his family before the onset of the Cuban Revolution.
"I feel a personal obligation as much as a deep relationship to the material, but there is a personal responsibility in representing a culture that I've not living in," he said. "It's a culture I was raised in. Since then, I've only visited Cuba once in 1978. I'm interpreting ["The Cuba Files"] as a native of Cuba, but from an American perspective, having watched the evolution of the nation and its music in the last 50 years."
Mateo studied art history at Princeton University, where he also began his formal training in ballet. Lured back into the dance world, Mateo established his namesake theater in 1986, which will celebrate its 30th anniversary in May.
Angie DeWolf, a company dancer since 2008, cited Mateo as a brilliant resource for any dancer looking to grow in artistry and technique.
"He's a brilliant choreographer," DeWolf said. "It's great to work with him one-on-one because you get to experiment with the choreography and character. I still learn something new every day with him."
Madeleine Bonn, who has been a dancer at the José Mateo Ballet Theatre since 2004, said Mateo's trust in the dancers instills a sense of artistic freedom that is often hard to find in the dance world.
"We'll come into the studio and he'll give you some steps without telling you what any of it means or what the character is supposed to be thinking," Bonn said. "Then he'll play the music and tell you to start dancing, but you have no idea beforehand what the music is. He likes to see if the steps that he's giving me tell the story on their own, so it's collaborative."
Both Bonn and DeWolf play lead roles in "The Cuba Files," one of the few original works that distinguishes the repertoire of Mateo's company from others.
Mateo may not have a traditional background in ballet, Bonn said, but his unique understanding of musicality and innovative choreography makes him a force to be reckoned with.
"Ballet is the fundamental language we use," Mateo said. "It's a language like any other. So in the way that you would take words to narrate entire stories, we take movements and combine them in different ways. It's a painstaking process, the way writing or music composition is. You step back from it periodically to make sure that you are using this language with some continuity, integrity and meaning."
With every sequence of movement and every note played, Mateo said he believes the production will be a very engaging experience for the audience.
"With regards to 'The Cuba Files' specifically, I would look forward to having them gain some new appreciation for how rich the Cuban culture is in terms of the diversity in music that that culture offers," Mateo said. "I try to use that music and dance to also shed some light on some of the issues that are, yes, important to Cubans, but are meaningful to people anywhere."