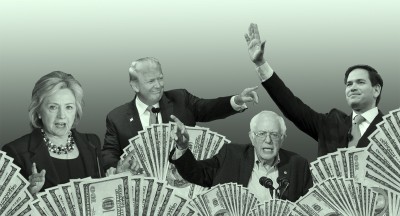 Boston University employees donated almost $30,000 to presidential candidates over the course of 2015. An overwhelming majority went to Democratic candidates, a Daily Free Press analysis of campaign filings found.
Forty BU professors, researchers, administrators and staff members contributed to the campaigns of Florida Gov. Jeb Bush, former Secretary of State Hillary Clinton, Ohio Gov. John Kasich, Vermont Sen. Bernie Sanders and Green Party candidate Jill Stein in 125 separate donations, with a total of $28,497.55.
The FreeP analysis was based on publicly released Federal Election Commission filings issued by each candidate. The data includes any contributor who listed BU as their employer. It does not include physicians at the Boston Medical Center, the primary teaching hospital affiliate for the Boston University School of Medicine.
Approximately 97.11 percent of the donations, with a total of $27,672.55, went to Democratic candidates Hillary Clinton or Bernie Sanders, the analysis found. Clinton received $20,540 from 19 BU employees, while 17 employees donated a total of $7,132.55 to Sanders.
Six employees gave $2,700, the maximum donation allowed per election. Five to Clinton, and one to Sanders.
The other three candidates got donations from one professor each. Ronald Knepper, a professor in the College of Engineering, donated $175 to Bush. Laurence Kotlikoff, an economics professor in the College of Arts and Sciences, donated $500 to Kasich. Stein, a nominee for the Green Party, received $150 from CAS math and statistics professor David Rohrlich.
Rohrlich contributed to both Stein and Sanders' campaigns but stressed that donations are not the most influential way for a person to be involved in politics.
"I don't think it's important for people to contribute to political campaigns," he wrote in an email. "Most candidates rely on big contributions from wealthy donors, and for the rest of us to contribute to their campaigns would be absurd."
Kotlikoff cited Kasich's experience as chairman of the House Budget Committee as a reason to support his bid for the presidency.
"I happen to know John Kasich personally, and I consider him a friend of mine," Kotlikoff said. "I also consider him a great leader, and I think he understands the depth and nature of some of our problems in a way that other candidates don't really grasp."
Deborah Burton, a music professor in the College of Fine Arts, wrote in an email that she made five $50 donations to Clinton because "having a female president is long overdue." She wrote that it is important for other voters to contribute to political campaigns in order to make their opinions known.
"The more individual voices are heard, the less power the big interests will have," Burton wrote.
Theodore Fritz, a professor emeritus in the College of Engineering, gave three different donations to Sanders with a total of $110. Realistically, he said, he suspects Clinton will win the Democratic nomination.
"I'm willing to put a little money where my heart is and just see where Bernie can take his campaign," said Fritz. "I've been surprised at how Sanders's campaign has really caught fire and is now going forward."
Virginia Sapiro, a political science professor in CAS, said she was not surprised that the majority of donations from BU employees were made to Democrats. Sapiro also recognized Sanders's popularity among students.
"I think he's really exciting to people who are new to the political system, and he sounds like someone who's really going to get things done and make real changes," she said. "He keeps saying there's going to be a revolution, so somehow he's come out to be the young person in this election."
Sapiro also pointed out that certain demographics, such as younger people, tend to be less politically active than others.
"The reason why young people have generally not participated as much as they will later in life is that they have not yet developed the habit of participation," she said. "They are not yet as integrated into as wide a range of social institutions."
Several BU students also contributed to various campaigns, though they were not included in the analysis of BU employees. A total of five students contributed to Sanders and Clinton's campaign. Two students donated to Clinton's campaign with a total of $2,883.64 and three to Sanders's with a total of $213.74.
Cristian Morales, a senior in ENG, said he donated $88.54 to Sanders in order to support the senator's effort of running his campaign without the help of super PACs.
"I know that even though I'll never be able to donate the full $2,700 maximum contribution, but if I and others give a little bit of money out of our paychecks, we'll still have enough money for our daily lives and we'll also be able to help finance and bring about a political movement which will push our country in a better direction," Morales said.
Shane McCormack, a junior in ENG, donated $15 to Sanders, according to the data. He said publicly funded campaigns like Sanders's remove "corrupting influence" from corporate donors.
"The fact that he's running without super PAC backing underscores the importance of personal contributions," he said. "I share his opinion that campaigns should be publicly funded … I think it's amazing that a candidate can run without the help of corporate America. Sanders won't be beholden to any corporate interests."
Jamie Engel, a senior in CAS, said she donated $183.64 to Clinton, since she believes Clinton will fight for the right of all families and the LGBT community. Engel is also the co-founder and co-president of BU for Hillary Clinton.
"I am the proud daughter of two gay fathers," she said, "and I know that Secretary Clinton … will remain a strong ally for all minority communities."