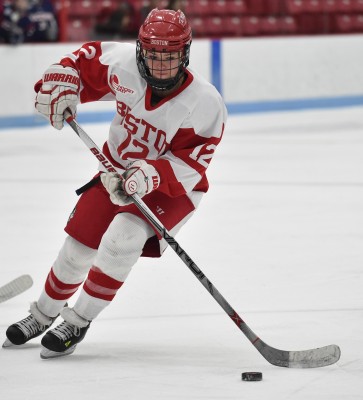 Caught at a crossroads between the task at hand and the gradually nearing playoff picture, the Boston University women's hockey team has a considerable challenge next on the docket.
The Terriers (19-11-2, 16-4-2 Hockey East) welcome No. 6 Northeastern University to Walter Brown Arena Friday night and will trek the short distance to Matthews Arena Saturday afternoon for the away leg. Upon surface glance, the weekend series will pit two perennial contenders against each other, but the circumstances exceed a normal encounter.
Should the Terriers win both games, they'll vault from third place in the Hockey East standings to second place, switching places with the Huskies (25-6-1, 19-3 Hockey East). BU head coach Brian Durocher assured that his team is focused on taking it one period at a time, conscious that a far-sighted approach could be perilous.
"No question, it's nice to know your destiny is in your own hands," Durocher said. "If we win the two games, we're the higher seed, and it'll only get us a home jersey versus an away jersey if we meet Northeastern in the semis. It also could give you win number 20 and potentially win number 21, and that's a nice benchmark in college hockey."
Another factor at play will be how well BU and Northeastern know each other collectively and personally. The sides have already met twice this year, with the Huskies getting the best of Durocher's squad each time, including a narrow 3-2 victory in the Beanpot Tournament Feb. 2.
On an individual level, the sophomore forward duo of Victoria Bach and Rebecca Leslie will inspire confidence in the Terriers' offensive zone, as they've combined for 82 points thus far. Meanwhile, Northeastern boasts the ever-dangerous Kendall Coyne, a veteran of the U.S. Olympic Team who has 71 points on the year.
There should also be a compelling goaltender battle, as BU sophomore Erin O'Neil stops 90.1 percent of shots that come her way, and Northeastern's Brittany Bugalski only leaks in 2.04 goals a game. With such talents on the ice, Durocher said the slightest of margins could likely decide who comes out on top.
Durocher said he hopes his team saved its best hockey for this point of the season, as "a couple pieces of luck can get you some big victories that can win championships." Before getting to that point, though, he's charged his team with playing better defense.
BU allows 3.06 goals a game, good for fifth-worst in Hockey East, and Northeastern bangs home 4.38 goals a game, the second-most in Hockey East. That sort of complexion will complicate Friday and Saturday even further, with two powerhouses trying to get the upper hand.
"If we can take care of business shift after shift, be a pain to play against and create those defensive layers, we'll be okay," Durocher said. "I know we can score goals at the other end, even if you don't score goals against a Northeastern or Boston College like you might against some other opponents. We've been able to score goals, and now we have to make sure we're defending hard and playing hard and keeping pucks out of our net."
To accomplish that task, Durocher will lean upon his experienced defensive corps. Specifically, seniors Lillian Ribeirinha-Braga and Alexis Woloschuk and juniors Alexis Crossley and Sarah Steele have been in high-pressure situations before. They've admittedly encountered ups and downs in 2015-16 but know what it takes to grind out a result this time of year.
"To have Alexis, Sarah, Lill and Alexis all being upperclass players, there's enough experience in that foursome to put the onus on them," Durocher said. "You don't want to put too much on young players, but seniors and juniors who have been there before in big games and won championships, you can lean upon."