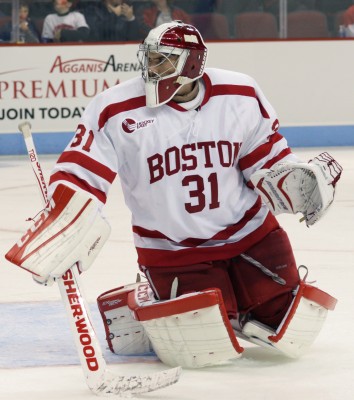 A taxing three-game stretch in a span of six days for the No. 9 Boston University men's hockey team started and ended the same way — with a loss.
First came the overtime thriller with No. 2 Boston College in the Beanpot championship, which ended in a 1-0 defeat. The conclusion of the week was no better for the Terriers (17-9-4, 10-5-3 Hockey East), as they fell in a lopsided game at No. 11 University of Massachusetts Lowell.
As BU head coach David Quinn sees it, the three games may have taken more of a mental toll on the Terriers rather than a physical one. For that reason, Quinn gave the team Monday off, hoping they would regroup for this weekend's two-game series with the University of New Hampshire.
And after three practices, Quinn said, his team looks ready to go.
"Obviously getting refocused, it was an emotional week last week," Quinn said. "And we gave up five goals on seven scoring chances [against Lowell] in two periods. We weren't as bad as the score indicated, that was for sure."
Though the Terriers did take the first game of the series against the River Hawks (19-7-5, 11-5-4 Hockey East), a 2-1 overtime win at Agganis Arena, the score did not look pretty in the second one, with Lowell cruising to a 6-3 win.
Senior netminder Sean Maguire had allowed only five goals in the four games prior to BU's recent rut. He could not hold up a struggling defense, and he was pulled a little over five minutes into the second period in favor of sophomore Connor LaCouvee.
A win in the second game would have propelled BU into fourth place in Hockey East, but the loss kept the Terriers in solid possession of fifth with four regular-season games remaining.
"Usually we give up a goal," Quinn said. "We're pretty good at stemming the momentum for the other team, and we didn't do that the other night. We kind of let the things snowball, and maybe that's a sign of mental fatigue."
The Wildcats (10-15-5, 4-9-5 Hockey East), like BU, are jostling for position in the conference standings. The Wildcats are eighth in Hockey East coming into this weekend's set of games, but they could finish the regular season as high as sixth if they get some help in the form of losses from Northeastern University and the University of Vermont.
"At this time of the year, I think everybody is playing playoff hockey. You have to," Quinn said. "It's that time of year for everybody, whether you're tying to get home ice or win the league or get a bye or whatever. There's a lot on the line for everybody."
Success for the Wildcats this year has been largely predicated on its forwards, particularly sophomore Andrew Poturalski (22 goals, 25 assists) and junior Tyler Kelleher (8 goals, 34 assists). The duo has combined for 89 total points, forming one of the most potent lines in college hockey. In a Feb. 12 game against Vermont (12-16-3, 6-9-3 Hockey East), Kelleher added a personal milestone when he recorded a goal and an assist, which gave him 100 career collegiate points.
Playing top teams such as BC (21-4-5, 12-1-5 Hockey East), No. 13 Harvard University and No. 6 University of Michigan has given the Terriers a chance to play some vaunted offenses, so Quinn said his team has experience in working against such a potent force.
"You just have to be thorough," Quinn said. "We've faced some good lines before this year. We've done a pretty good job against them. This is certainly a challenge that we've faced before."
On the flipside, defense issues have compounded, putting the Wildcats at No. 11 in terms of Hockey East scoring defense (3.33 goals per game).
Goaltender Daniel Tirone was a success story last year when he came in midway through the season to emerge as the starter. He was a major reason why the eighth-seeded Wildcats reached the Hockey East semifinals, a game they eventually lost to BU.
But Tirone, with a .900 save percentage and 3.31 goals-against average, has not replicated that success this season. Still, Quinn said he expects to see a UNH team that will pose a threat on both sides of the ice come game time.
"[UNH is] a team that counters and creates offense off transition," Quinn said. "They've got a great first line, great power play. Doesn't change — seems like every year you play them, it's the same story. We've got to play an honest game."