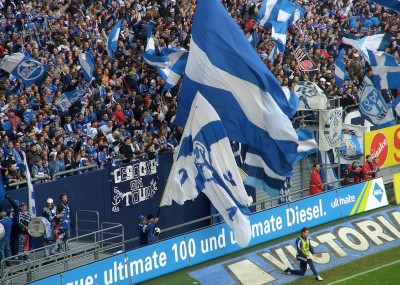 On Thursday afternoon, I had the pleasure of indulging myself in the world of soccer. With the UEFA Europa League entering its knockout round, I had a plethora of games to choose from.
While matches like Krasnodar versus Sparta Prague seemed intriguing, I opted to watch the more enticing Shakhtar Donetsk versus Schalke 04 encounter. My match of choice ended in a scoreless draw, but was intense nonetheless. However, it got me thinking about why this perplexing competition even exists.
Not to be confused with the UEFA Champions League, the Europa League serves as a way to reward teams who excelled in domestic cup competitions and those who finished just below the true champions of Europe's elite leagues.
The competition does a great job integrating different, lesser-known clubs from around Europe into one tournament that gives them national attention. However, the league is too big, too complicated and overall, just plain irrelevant.
So, how does one qualify for what's supposed to be a prestigious tournament?
Well, qualification takes place over the summer featuring several grueling rounds among clubs from European nations, including Gibraltar. Yes, Gibraltar, of all places.
Losers from the Champions League are also relegated to the qualifying rounds of the Europa League. After much trial and tribulation, the field of 48 is set for a six-match group stage.
Following the group stages, 24 teams (the top two from each group) advance into the knockout round. The third-place group finishers from the Champions League then join them too.
Therefore, the Europa League is essentially one giant loser's bracket.
In order to be in contention for Europa League, a club must have won a domestic cup or finished behind its league winner. Clubs also used to qualify by getting the UEFA Fair Play award, but that mode of qualification will cease to exist in the near future.
All those teams get together, go through qualification, play a meaningless tournament and try to win a trophy.
Here's the thing: most of the teams that qualify for the knockout stages are from well-known leagues, and most of the domestic cup winners in the elite leagues qualify for the Champions League instead. For example, Arsenal of England won last year's storied FA Cup, but also qualified for the Champions League. Therefore, its spot went to the wayside and the next "lesser" team entered this confused competition.
The whole point of the Champions League is to reward the top clubs in Europe with a chance to represent themselves on a continental stage. If a team doesn't qualify for the Champions League group stages, it should not get rewarded further by being placed in the Europa League. The team's members should go home and prepare for their domestic league.
The same goes for teams that finish third in the Champions League group stages. You have to finish top two in the group to advance. If a club doesn't do that, then better luck next year. However, UEFA thinks otherwise. A club finishes third in the Champions League, and UEFA praises them by putting them in the Europa League against teams that earned qualification for the knockout round.
The Europa League of losers has become a mockery. In the 2014-15 Europa League, Swedish side Brommapojkarna was given a fair play qualification, but was recently relegated from the Swedish top flight. Why were they even considered? Saying "good game" every time you lose shouldn't qualify you for something like the Europa League.
The 2014-15 iteration of the Europa League saw another footballing minnow qualify, even though nearly every fan couldn't identify where it plays. Astra Giurgiu, winners of Romania's domestic cup, qualified for the group stage. But let's be honest, a team such as that has little business among the supposed "champions" of European football.
If the Europa League made any sense whatsoever it would be more stringent about who can qualify. Instead, losers are paraded around Europe competing for a second place trophy.
While winning a domestic cup is a big deal, it shouldn't be rewarded with something like a Europa League qualifying berth. Given that every team in a country is playing for the domestic cup, it's possible to play a slate of opponents who aren't in the top flight and still win. Why is that rewarded? Congratulations, you beat awful soccer teams. It's like cheering for an infant doing infant things.
For teams in Europe, the greatest honor is earning a spot in the Champions League. So why should that get belittled by allowing clubs that finished lower in the standings to have a chance at qualifying for a separate tournament? It shouldn't.
Watching the Europa League, albeit interesting, is like watching a glorified losers bracket. And teams shouldn't get rewarded if they did not win.