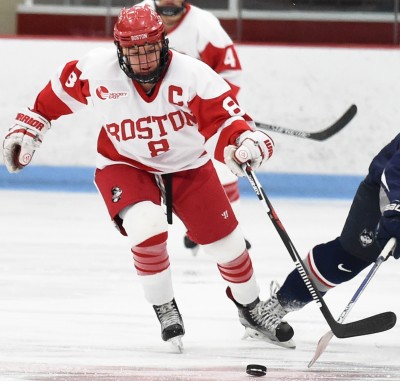 With Hockey East's second-place seed on the line, the Boston University women's hockey team had all to play for in a home-and-away series with No. 6 Northeastern University this past weekend.
Four points would have granted BU the aforementioned slot, but BU's (20-12-2, 17-5-2 Hockey East) efforts fell just short against the Huskies (26-7-1, 20-4 Hockey East). A 3-2 win Friday at Walter Brown Arena set things up nicely, only for a 6-2 defeat at Matthews Arena to seal the Terriers' postseason fate.
Friday started out as well as BU head coach Brian Durocher could have hoped, as the Terriers set out with an aggressive style of play. BU held the puck for the majority of the first period, and found twine when senior forward Dakota Woodworth netted a shorthanded opportunity past goaltender Brittany Bugalski.
The Terriers got in penalty trouble early too, and sophomore goaltender Erin O'Neil was tested repeatedly. Northeastern could not capitalize early, though, largely because of O'Neil, who finished the contest with 48 saves.
"Tonight was a night that Erin got in a good groove of tracking pucks," Durocher said. "I felt like it was at that point where we had to let somebody be the person, and tonight, she certainly gave a great effort. You've got to have that confidence in your goalie because … it gives you the confidence to do other things."
However, BU could not hold Northeastern off the board any longer, as senior forward Kendall Coyne deceptively slid a second-period goal past O'Neil, knotting the game at one apiece. Nonetheless, the Terriers broke the deadlock when senior forward Jordan Juron capitalized on a saucer pass from sophomore forward Victoria Bach.
Bach tallied a goal of her own early in the third period, giving the Terriers a 3-1 lead. She won a battle on the sideboards and skated right in front of the net, shooting one past the glove side of Bugalski.
The Terriers largely kept the Huskies at bay, only for forward Denisa Krizova to tally with eight seconds remaining in the game. However, time was not on Northeastern's side, and BU waltzed out of Walter Brown Arena with the weekend's first two points in hand.
"Those kids are emotional, they're excited and they want to go out in a grand way," Durocher said about the seniors, who were honored before the game. "To have the stars line up and to have them get points, it's great for all of them."
Coming off a rousing 3-2 win, BU looked poised to snag Hockey East's second seed. However, the Huskies took matters into their own hands with a three-goal third period, earning the distinction of regular season runner-up.
In her final game at Matthews Arena, Coyne did not disappoint. She registered three points on two goals and an assist, making her 75 points second best in the country. Her performance was the difference-maker, as BU limited her to one goal on 18 shots the previous night.
After senior forward Sarah Lefort struck first with the 91st goal of her career, Northeastern responded with three unanswered tallies. Coyne, Krizova and sophomore McKenna Brand upped the Huskies to 3-1 lead in the second period.
Senior winger Kayla Tutino cut the deficit to one going into the second intermission with a power-play strike that was assisted by Lefort and Bach.
"Special teams are going to play a big part in any game, and we've had a pretty consistent power play through the year," Durocher said. "I thought that goal in particular was great because multiple people touched the puck. They changed locations and found a beautiful backdoor play."
Both teams battled in an intensely physical third period, but mental mistakes eventually caught up with BU. After fighting for the puck at the offensive zone blue line, Husky forward Christina Zalewski got possession and sent a lazy wrister on net. The shot glanced off O'Neil's stick and into the net, extending the Northeastern lead to 4-2 with just over seven minutes remaining in the game.
Despite the costly error, Durocher said he intends to stick with O'Neil between the pipes when postseason play starts.
"I'm trying to make sure she knows, at least for the time being, we're doing what we can to give her the confidence and let her know that she can have a little bit of a hiccup and still be in position," Durocher said. "… You get a series that goes one way, it could be different, but we're going to probably see her as the person going into the playoffs, and it'll be up to her to just relax and compete and play hard."
Zalewski's soft goal opened the floodgates, and the Huskies went on to light the lamp twice more before the final whistle, icing their 6-2 win.
Although it turned ugly for BU in the final minutes, Durocher said he's focused on how well his team performed the rest of the game.
"We played pretty well in the third period," he said. "Give them credit for capitalizing on some opportunities. All of a sudden, a game with eight or nine minutes left ends up being a one-sided score … But I'll take the good of the first 51 [minutes] as what I'll see for [this] game and the night before. I hope we can turn that into some good stuff come playoff time."
The Terriers head into this week's Hockey East Tournament as the third seed. They will host the sixth-seeded University of Vermont in a best-of-three series that begins Friday.