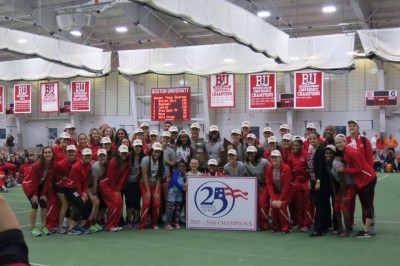 The Boston University Track and Tennis Center hosted the Patriot League Indoor Track and Field Championship this past weekend, and the event proved fruitful for the home program.
BU's women's team secured its second conference title in three years, while the men's team finished in second place behind the United States Naval Academy. The indoor track season began Dec. 5, and assistant coach Greg Lambert said the conference honors were the culmination of months of hard work.
"These kids are just really hard workers," Lambert said. "They pride themselves on putting in the effort and the time, and became not just athletes, but students of the sport. That's the key to being successful at this level. The term student-athlete goes beyond the classroom, but also into studying your sport and being very aware of everything."
The Terriers were led by several strong performers on the women's side, the least of which was junior Toria Levy, who was named Patriot League Track Athlete of the Year.
She won the 60-meter hurdles and also took first place in the 500-meter dash. Levy's strong weekend was aided by senior Christy Wood. She set a conference record in the 200-meter dash and also won the 60-meter dash.
Meanwhile, junior Cameron Williams stole the show for the Terriers, as his Patriot League record time of 20.58 seconds won the 200-meter dash. Williams' time is the third fastest in the entire nation this season. After the meet, Williams was named Patriot League Male Track Athlete of the Year.
"I've never coached anyone like [Cameron] before, and he's probably the most talented athlete I've ever worked with in my entire life," Lambert said. "Words really can't describe him. I don't think he even knows how special he is. He doesn't recognize it. He's humble, so his humility and blue-collar approach really surface. He's really gifted and does not take his gifts for granted."
While both teams were pleased with this past weekend's results, they have their sights set on capturing more silverware. The men's and women's teams will kick off their respective New England Championships Friday.
Meanwhile, the men's team will compete in the IC4A Championships the first weekend of March, and the women's team has the ECAC Championships the same weekend.
"It's great to do well in the Patriot League, but I also think we want to represent at the next level," Lambert said. "This program and these kids have done a great job so far, and they want to show that Boston University is not just one of the best programs in New England, but in the country."
Jonathan Sigal contributed to the reporting of this article.