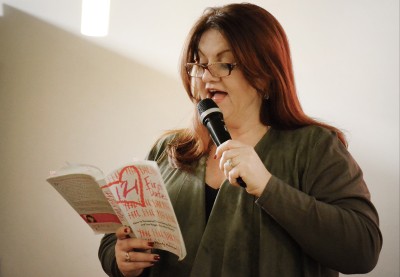 When it comes to first dates, most people have experienced the good, the bad and the straight-up ugly. While today's dating world can be a treacherous no man's land that seems impossible to escape, Wendy Newman, a relationship, dating and sex expert, is letting people know that there's hope for everyone — even if it only takes 121 first dates to find "the one."
In her first novel, "121 First Dates: How to Succeed at Online Dating, Fall in Love, and Live Happily Ever After (Really!)," Newman entertains her readers with real-life accounts of online dating through 121 first dates over the course of 10 years and the practical wisdom she gained along the way.
As part of her national book tour, Newman held a book signing and discussion at Trident's Booksellers and Café Thursday, where she read excerpts from the novel and hosted a Q&A session.
With the growing popularity of dating apps like Tinder and Bumble, Matt LaBombard, the events coordinator at Trident, said he thought Newman's novel was appropriate to spotlight.
"I try to bring in authors that I believe are going to have a dynamic message," LaBombard said. "I thought it would be cool to have Newman come in to talk about online dating, especially for people around my age who are asking a lot of questions as to how to date."
On the second floor of the café, dim lighting and the clinking of wine glasses set the mood as Newman read four excerpts and mused over the life lessons she learned to the 13 attendees present.
"I have this thing called the 'uterus rule,'" Newman said after reading a story titled "Super-Cougarific Me." "If you're young enough to have come out of my uterus, then you're not putting anything near it."
With chuckles and cheers coming from the audience, Newman went on to share other nuggets of advice to help her audience find their footing on the rocky terrain that makes up the dating world.
Newman began her dating adventures upon divorcing her husband at 35 years old after 12 years of marriage. The first chapter she wrote, "Keeping Up with Mr. Johnson," recounted her 54th date, and it proved to her married friends that being single wasn't as exciting as it seemed.
"The pressure to not be displeasing when you're a woman is intense," Newman said. "It's something that's always going to be there [to] struggle with, but we need to know how to set boundaries. One of the things I learned later in life, which is really surprising, is that if I notice that I'm exhausted because I'm working really hard to impress someone, that's a bad sign. It's a red flag."
Jessica Hughes, 35, from Dorchester, said she has been actively dating for the past six months and found Newman's advice to be enlightening in learning how to handle the pressures of settling down and technology's ever-growing role in dating.
"It's funny because I'm one of those people who would gladly strike up a conversation in person, but I notice that even when I'm waiting for the T, everyone is on Tinder," Hughes said. "If you just looked up and you're like, 'Hey, how's your morning?' it'd be great and different. But honestly, it's the way things are these days, and I'm not going to fight it."
Newman, however, said the surge in online dating allows anyone to meet with a potential partner that they may not have had access to beforehand, which she says is beneficial for everyone of all ages and backgrounds.
"While it can seem superficial, it will get you off the couch," Newman said. "All online dating is about is getting in front of somebody that you normally don't have access to in your day-to-day world."
While Newman is finishing up her book tour in the Pacific Northwest and later in the South, she continues to lead workshops for women focused on sex and better understanding men. She also has a new project in the works called "Partnership By Design" with her partner of four years, Dave — or, as Newman calls him, the 121st and final date.
"[Partnership By Design] is you looking at how to build a life with somebody and chucking what convention says and being able [to] pick the parts that you'd like to mold into your relationship," Newman said. "You should look at your life and think about what you specifically need and want to give to the world and to your partner."
If there's anything that Newman stresses at the end of the discussion at Trident, it's that communication is the key to making dating less of an ordeal.
"At the end of the day, we all have horror stories," Newman said. "But that doesn't mean that we can't keep going."