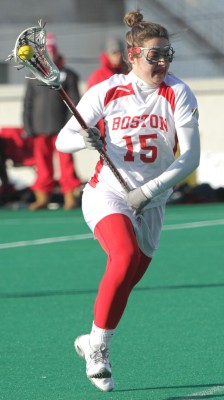 After earning its first win of the season, the Boston University women's lacrosse team will try to keep the good times rolling when it visits the University of Massachusetts Amherst Wednesday night.
The Terriers (1-1) showed strong upperclassman leadership in this past Saturday's 13-8 victory over Fairfield University. Senior attacks Jenny Thompson and Mallory Collins combined for seven goals and an assist, while senior midfielder Ally Adams notched four goals and an assist of her own.
The seniors could not have completed the effort without sophomore goalkeeper Christine Laible, though. She earned her first collegiate start against the Stags (1-1) and earned 10 saves in the process, paving the way for Patriot League Defensive Player of the Week honors.
"I think Christine has really shown to be a spark on the team," said BU head coach Liz Robertshaw. "I thought she was strong in the goal cage and very confident. She played very well in a tough game. It was her first start, it was playing against her sister's team and her birthday, so you have a lot of stressful moments and I think she handled it very well."
The Terriers will try and build upon those efforts against the Minutemen (2-0), a team Robertshaw said will pose many different and similar challenges.
"UMass is a really tough, blue-collar, hardworking team," Robertshaw said. "I think that's something that our team has always battled. I actually find that [Fairfield] has a lot of similarities. They both work hard, they both play fast and they're both highly aggressive in transition and on attack."
UMass, just like BU's last two opponents, is coming off a season in which it advanced to the NCAA Tournament. The Minutemen ultimately fell in the second round, but have developed a reputation as a dangerous force on both sides of the ball.
"I think UMass has a lot of experience in pressure games," Robertshaw said. "They've won their conference numerous times and they've been to the NCAA Tournament, so they've played in a lot of high-profile, high-pressure games and they always step up to the plate. I think that's a challenge for us to make sure we bring our game and meet them at that high standard."
Much like BU, UMass recently had to lean upon its senior leaders. Attack Erika Eipp and defender Anne Farnham were instrumental in a 16-4 victory over the University of New Hampshire this past Saturday.
Eipp tallied three goals and four assists in the game, earning her an Atlantic 10 Co-Player of the Week nod. Farnham led the defensive core, which allowed only four goals after four quarters, and was consequently named as the A-10's Defensive Player of the Week.
Last year's matchup against the Minutemen did not end favorably for the Terriers, as they fell 7-2 at Nickerson Field. This year, however, Robertshaw said she is sure BU will do anything it can to let go of past history.
"It's different teams and it's different years," Robertshaw said on whether last year's loss still lingers. "We're both good teams and we bring a lot to the table, as does UMass. We have a different game plan and different personnel, so I don't think that's going to be in the minds of the players. If anything, I just know that every year we play UMass it's a tough game, so we just need to bring our best effort."