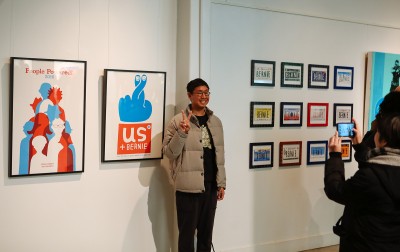 Artists and musicians from all across the country have come together in support of Democratic presidential candidate and Vermont Sen. Bernie Sanders to use their work as a means of political communication.
Bernie Sanders 2016, in conjunction with the HVW8 Art and Design Gallery in Los Angeles, sponsored "The Art of a Political Revolution" at the Artists for Humanity EpiCenter in Boston. The exhibit opened Friday night and ran the entire weekend.
The gallery exhibited the work of nearly 40 different artists and was accompanied Friday night by live music from different musicians. Participating acts included DJ Kon, Riobamba, YVNG PAVL, Tigerman WOAH and special guest, Boston rapper Michael Christmas. The musicians were stationed in different locations throughout the EpiCenter to enhance the exhibit-goers' perception of the pieces.
"The way [artists] communicate their support is through art," said Tyler Gibney, an artist and curator of the event. "We put together a number of like-minded artists that were in support of Bernie and created this show."
Although art is commonly used as propaganda, this was not the case for "The Art of a Political Revolution." The art exhibited and music played were not advertisements. In fact, a majority of it did not directly relate to Sanders as a person. Rather, it was an artistic and creative expression of the ideals surrounding Sanders' ideology.
"[Sanders] gave quite a bit of artistic freedom and license for some of the pieces," Gibney said. "[Some] may be a little more light and aesthetically pleasing whereas some are quite direct with what they're saying."
Both the music and the art promoted Sanders' ideas and showed support for the campaign. One participating artist, Jermaine Rogers, created a poster titled "Together," which depicted several profiles in different shapes and colors, representing the diversity of the U.S. population. In front of all of them was a clear, smiling portrait of Bernie Sanders.
"Listening to Bernie Sanders' message more in depth, the one word that sort of kept coming to mind was 'together,'" Rogers said. "For people who are not artists to come in and see these heavy ideas presented in these sort of unspoken, cosmic ways, it's special."
Rogers said Sanders' strong support for the arts is part of what drove this nationwide event in addition to the participating artists' eagerness to promote the senator's campaign.
"At the end of the day, it's going to be art that's really going to change on a very deep level the way people think about themselves, and ultimately, art is going to change the world," Rogers said. "When I say 'art,' that means visual arts, music, film, writing — those things will change the world."
Vermont native Dug Nap, another participating artist, created a piece comprised of license plates labeled "Bernie," with different inspirational quotes. Massachusetts' plate read "The Spirit of America." The poster contained 12 different plates, with an original Vermont plate crafted back when Bernie was mayor of Burlington.
"As an artist, I notice a lot of the art that people use for their campaign," Nap said. "It's kind of interesting to me because a lot of the art tends to be so … stylistically commercial."
One of the goals of "The Art of a Political Movement" was to have a large variety of unconventional artwork and music that in some way supported Sanders.
"Bernie's ideas are so different," Nap said. "I feel like that … should be represented by art that's different."
Although the exhibit saw a smaller turnout Saturday, there was a diverse group of Sanders' supporters there, from older couples to families to younger students. Support for Sanders and the arts sparked interest in Boston residents to visit the event.
"To see that so many people have come together and created such awesome art in support of that is so cool," said Nick Mellace, 24, a Dorchester resident. "I love art. I love Bernie Sanders. It all came together here."