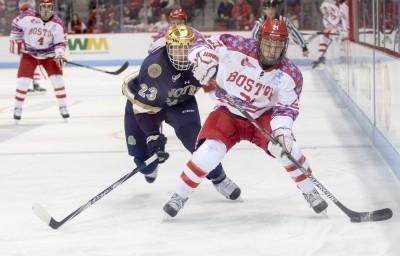 For the No. 9 Boston University men's hockey team, the goal entering the weekend is simple.
"Get four points instead of three," said BU head coach David Quinn.
As the Terriers (18-9-5, 11-5-4 Hockey East) get set to begin a weekend away at the No. 10 University of Notre Dame, Quinn said the team did "a lot of good things" last week in its Friday tie and Saturday win against the University of New Hampshire.
But, naturally, there are things to improve upon as well.
"Play a full 60 minutes," Quinn said. "Both nights, we had some lapses. Cost us a point on Friday night, let them creep back in the game on Saturday night. Hopefully we can continue to play mentally tough hockey for the 60 minutes instead of maybe 55 or 50."
Facing the Fighting Irish (18-7-7, 14-4-2 Hockey East) isn't about completely changing the way BU approaches a game, though, Quinn said. It's about continuing to get better.
"We've got to have a good mindset, we've got to make sure that we're mentally tough and resilient and we've shown a lot of those characteristics this year," he said.
Week to week, the Terriers' main focus approaching a slate of games is to fixate more on their game than adjust to what a certain opponent brings. That doesn't change, despite the success Notre Dame has had or the way the Hockey East standings have played out.
As it stands, BU is currently tied for fourth with the No. 11 University of Massachusetts Lowell, though the Terriers have the tiebreaker and are four points behind the Irish for third. With the River Hawks (20-7-5, 11-5-4 Hockey East) playing No. 2 Boston College, which is currently holding down first place in the conference, this weekend, points are at a premium. The Terriers will want a first-round bye, and the top four teams get home ice in the quarterfinals two weekends from now.
"It's human nature to know what the standings are and know what you need, but at the end of the day, we got to win a hockey game on Friday night," Quinn said. "That's all that matters."
Even a split in the coming weekend's series would aid BU in being able to remain in the top four. As every conference bout goes, however, taking points from the Irish in South Bend, Indiana won't be easy. BU is winless in its last seven meetings with Notre Dame, posting a 0-5-2 record dating back to Jan. 2011.
And though it was swept by No. 5 Providence College last weekend, Notre Dame is 8-3-0 in its last 11 games.
The Fighting Irish have both a top-15 offense and defense, scoring 3.28 goals per game. They are led by sophomores Jake Evans and Anders Bjork, who have 32 and 31 points on the season, respectively. Senior and assistant captain Tommy DiPauli has also contributed 29 points in 32 games played. And with a little help from the blue line, sophomore Jordan Gross sits second in Hockey East in defenseman scoring with 27 points on the season so far.
Gross is also part of a D-corps that allows just 2.22 tallies per contest, though much of that has to do with sophomore Cal Petersen, Notre Dame's starting goaltender.
Like other top netminders in Hockey East, Petersen ranks near the top of many statistical categories. His .930 save percentage is 11th best in the country. Within the conference, he's third overall in that category and behind only BC's Thatcher Demko (.938) and Lowell's Kevin Boyle (.932).
Petersen has also posted that impressive clip while playing the most minutes of any goalie in the nation, logging 1,927 minutes and 37 seconds of work leading into the final games of the regular season.
Also on a national scale, special teams are another strength for the Irish. They rank 14th in terms of power play success at 20.69 percent and are 16th overall on the penalty kill with 84.7 percent.
"They're good," Quinn said. "But we've played good teams all year."
What's worked for the Terriers when playing those "good teams" is having their players step up, and that becomes even more important with the postseason looming. Through a "good second half," Quinn said, BU has succeeded even with some of its key players struggling to find the back of the net, and he added that he's not concerned about a lack of production.
"Eventually those guys are going to score goals," he said. "They're too good not to, and hopefully it's this weekend."