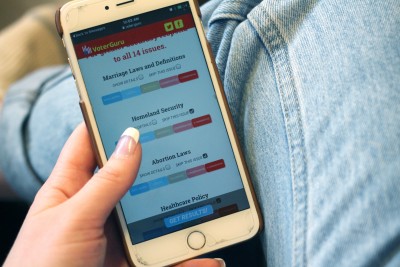 The upcoming presidential election has riled up voters all across the nation. Some loyal party members have announced their allegiances, but others aren't sure where they stand. A new app, VoterGuru, has come to solve this problem for the undecided voters and curious citizens alike.
VoterGuru is an online app that matches a user's ideology with that of a presidential candidate. Users are presented with 14 issues to weigh in on, including gun control, education, gay marriage and foreign policy. Topics unfamiliar to the voter can be skipped, but each issue features a blue-and-red scale explaining liberal, moderate and conservative stances along the spectrum.
Ben Krakow, the co-founder and president of VoterGuru, created the app after attempting to figure out his own place on the political spectrum.
"Prior to the 2014 election, I was doing research on candidates and figured there had to be an easier way to consolidate all that information," Krakow said.
After extensive research and "leg work," Krakow reached out to Ben Atkins, a high school friend, with his idea for an app.
"I've always had an interest in politics," said Atkins, a co-founder of the app. "It sounded like an exciting idea at the time, and I didn't think it was going to go this far, but I'm pleased."
Krakow is also a digital business analyst at Horizon Media, which launched an invention development program around the same time he and Atkins had laid the groundwork for VoterGuru. Horizon was seeking ideas for startups, and the winning business plans would be given funding, development resources and five months to build a company. Krakow and Atkins submitted VoterGuru in April 2015 to Horizon's "Dunes of Dreams" competition, eventually winning the contest and raising capital through the Incubator program to launch VoterGuru's web-based platform.
The app's features include issues, interactive visuals and candidate conviction, which determine how consistent a candidate's stance has been on a certain issue.
"There's a lot of noise out there, and I don't think candidates are always candid about the issues," Krakow said. "Sometimes their public statements contradict their voting records, and in order to be really educated, you have to be paying very close attention."
The multitude of presidential candidates in this election places even more importance on weeding out the overwhelming data thrown at voters.
"We're at a very unique moment in time, where people are paying attention to politics," Krakow said. "The most recent primary has broken records for viewing, and it's a huge opportunity to educate people."
To get its data, VoterGuru pulls from a variety of sources, including voting records and public statements, to create an algorithm that matches users with candidates.
Cami Adajian, a freshman in Boston University's College of Arts and Sciences studying political science, finds this app especially useful for young voters who are entering the voting game for the first time.
"We watch debates and listen to the media but it's important to really understand your views," Adajian said.
With several candidates running in this election, mostly in the Republican Party, Adajian points out the difficulty in identifying with just one politician.
"There's so many candidates going at each other, especially during the debates, and you can't really understand what they will do as president," Adajian said. "This app is helpful because you can see their policies and identify with one out of so many."
The youth vote is a popular topic in this year's election, with candidates targeting new voters and college students.
"We're the next generation," Adajian said. "This is the first election I can vote in, and it's a really important time in our country."
Krakow and Atkins have plans to expand VoterGuru to include regional, congressional and state elections. But their goal remains to educate new voters stepping up to the polls for the first time.
"Our goal is to have people be informed, however that may impact the election," Krakow said. "We have all these new people, and we want to be an important step in their educational process."
A previous version of this story said Krakow was doing research prior to the 2004 election rather than the 2014. This correction is reflected in the story above.