SOUTH BEND, Indiana — The Compton Family Ice Arena wasn't too friendly to the Boston University men's hockey team two years ago. In the midst of a losing 2013-14 season, the Terriers traveled to the University of Notre Dame in the penultimate regular-season weekend, and dropped both games with matching 2-0 losses.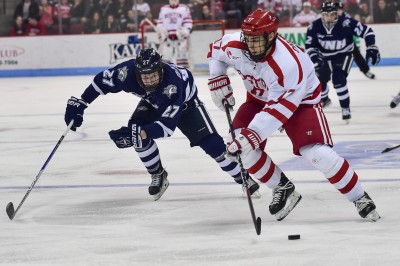 And that wasn't made much better when the Terriers returned to South Bend two weeks later for a first-round playoff game against the Irish, which BU also lost, 3-2.
"It was definitely in the back of a couple guys' minds [this weekend]," said BU senior center Mike Moran said about his team's previous history on the road against Notre Dame.
"But once the puck dropped, we played our game."
This time around, No. 9 Terriers (19-9-5, 12-5-4 Hockey East) took the first game of a two-game set against No. 10 Notre Dame (18-8-7, 14-5-2 Hockey East), winning 3-2 on Friday evening, earning their first win over the Fighting Irish in eight games dating back to 2010.
"Obviously two years ago when we came here, we didn't score a single goal in a full weekend," said senior forward Ahti Oksanen. "So it was huge to get the bounce back now, and just show these guys we can actually play a good hockey game."
After missing two straight games with a broken finger, senior goaltender Sean Maguire recorded 33 stops in the contest, and survived being outshot 10-3 in the final period to secure the Terriers' victory and further improve their playoff positioning.
The win pushed BU into sole possession of fourth place in the Hockey East standings, ahead of the No. 11 University of Massachusetts Lowell, which lost to No. 2 Boston College on Friday.
With a victory against Notre Dame on Saturday, BU would move into third place in the Hockey East standings. The Terriers need at least one more point against the Fighting Irish to clinch a first-round bye and home ice for the second round of the conference tournament.
On the power play, at 15:24 of the first period, senior assistant captain Danny O'Regan fed Oksanen, who one-timed the puck past Notre Dame goaltender Cal Petersen to give BU a 1-0 advantage.
"It was a lucky bounce, we didn't really execute the power-play breakout well," Oksanen said. "But JFK [freshman forward Jakob Forsbacka Karlsson] just dumped the puck in, and we somehow managed to forecheck the puck back and then … Danny just found me, I had a wide-open, empty net, and it was an easy shot to just put it in."
With 6.6 seconds remaining in the period, though, with Notre Dame on a power play of its own, defenseman Bobby Nardella passed off to center Connor Hurley, who tied things up at a goal apiece.
Moran gave BU a 2-1 lead at the 2:58 mark of the second period with a rebound inside the crease off an initial shot from sophomore winger Chase Phelps.
Freshman defenseman Charlie McAvoy pushed the Terriers' lead to 3-1 with a one-timer from the center point at 9:07 of the third period.
With an empty net, Notre Dame came within 3-2 with 1:32 remaining when captain Steven Fogarty cleaned up a rebound. But BU and Maguire stopped the final few attempts from the Irish, holding the puck along the boards in the final few seconds to avoid any more chances.
"That was a playoff hockey game in a lot of ways," said BU head coach David Quinn. "… Just really proud of our guys, to come in to this building and beat a very good hockey team, well-coached, they've got a lot of good players there — It takes all 20 guys pulling in the right direction.
"I thought we had that tonight."