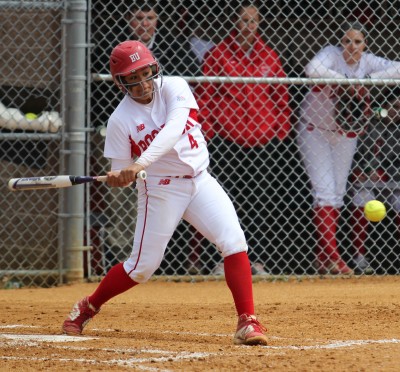 Coming off what Boston University head coach Ashley Waters described as "a really great week of practice," the BU softball team will partake in a five-game tournament hosted by Florida Atlantic University.
Starting Friday morning and carrying through Sunday afternoon, the Terriers (1-3) will take on teams from all over the country. Columbia University and the University of Maryland await BU Friday, Stony Brook University and Michigan State University pose challenges Saturday and the weekend wraps up Sunday against Florida Atlantic (9-0).
The Lions (0-0), Terrapins (3-7), Seawolves (2-3), Spartans (6-4) and Owls will all pose unique challenges, and Waters noted the diversity of competition will test her team each time it takes to the diamond.
"We have such a strong preseason schedule for development, and we get excited playing teams from different conferences to see what different people are doing," Waters said. "You learn a lot about your team and about yourself in this preseason, so for us, it's a matter of going out and doing what we need to do, but also getting to see the best competition in the country to prepare us for our conference play."
Given the strength of BU's upcoming schedule, no win will come easily, and that's something the team is well versed in so far. The Terriers spent last weekend in South Carolina as a part of the Charleston South University Tournament, fighting tooth and nail across four games.
Western Carolina University dispatched BU on two separate occasions, Charleston Southern (7-1) escaped with a 6-3 win and then fortunes changed with the final encounter. North Carolina Agricultural and Technical State University suffered an 8-0 defeat at the hand of the Terriers, sending the scarlet and white home on a positive note.
While this upcoming weekend represents a distinctly separate slate of games, Waters noted that she and her staff have "worked on some things and broken some things down" ahead of its busy schedule. They decided "there's so much room for improvement" and Waters said they "are excited by what is to come," hoping to keep on evolving as a team.
"Like I've said before, this preseason is all about preparation and getting us ready for Patriot League play," Waters said. "So for us, going out every day and being able to play in the sun, get out in the dirt and have fly balls in the sky, those things make a big difference. The more we play the better we are going to get, and our kids are going to adapt."
The usual suspects of junior shortstop Brittany Younan, junior left fielder Moriah Connolly and senior pitcher Melanie Russell should stand out, but Waters noted a slew of less publicized players are primed for big roles.
Specifically, Waters said she was pleased with how freshman catcher Alex Heinen and freshman second baseman Emily Morrow showed last weekend in their first collegiate action. Waters also hopes to see sophomore pitcher Sydni Overly keep on recovering from last season's injury, and wants sophomore first baseman Kaitlin Sahlinger to "turn it on."
Last but not least, Waters pointed out the various ways sophomore center fielder Jilee Schanda contributes, using her feet to make catches in the outfield and bat to get on base. All in all, Waters said each player is a part of BU's constant quest to blend youth and experience.
"For us, when we have younger kids who are following the veteran players and starting to find their groove, that's going to be very helpful for us," Waters said. "There's a lot of pieces that are really great, and it's a matter of them coming together to be a wonderful team."
While BU has its sights set on returning home with five wins, an unheralded component of the trip occurs off the field. Waters noted how her team has "incredible personality" and is focused on the task at hand, but will return to Boston with far more than positive or negative results.
"There's only 22 kids who get the chance to say they're a part of Boston University softball," Waters said. "To play collegiately and play a Division I sport, you have moments that other students don't get to experience in terms of traveling every weekend, going to Florida, playing in the sun, getting to see your family on the road, having dinners and staying in the hotel with roommates."
She added, "There's a lot of pieces of this that are really rewarding, and when you look back on your college career, they're the ones that stick out."