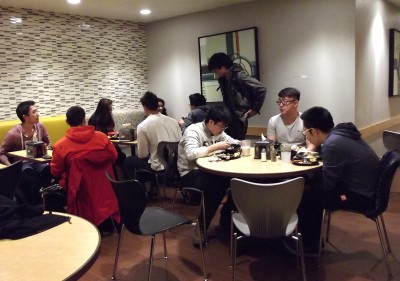 A protest was held in the Boston Common Saturday in reaction to the Feb. 11 conviction of Peter Liang, a former New York Police Department Officer who was charged with second-degree manslaughter. Several members of the Boston University community said the situation was a controversial development in a recent string of fatal incidents with police officers.
BU Dean of Students Kenneth Elmore said this case is worth the attention and conversation due to its interesting nature. Those who have not experienced the recent debate surrounding police officers can learn from the backlash over Liang's conviction, Elmore added.
"Hopefully for a student who may be an international, this might be the way they get a feel for some of the conversation that's been around race and policing in the country … certainly over the last few months," Elmore said.
Mussie Petros, a senior in the College of Engineering, said he believed Liang should not be sentenced to the full 15 years in jail if Akai Gurley, who was unarmed, was actually killed by accident.
"An argument could be made he was actually being convicted because of his skin color, because he's not white," Petros said. "There has been a lot of prejudice against white cops, in the sense that they weren't getting convicted because of what they did, so that could be true, partially."
Abhay Bansal, a senior in the Sargent College of Health and Rehabilitation Sciences, said he believed Liang should be prosecuted regardless of how previous cases have been decided.
"[Liang] got hit with a sentence, but white police officers who have done the same thing — have done worse things — they got away with it," he said. "He should be prosecuted just as everyone should be prosecuted … It's unfortunate that he killed [Gurley], because it might've been an accident … but he did end up killing him."
Boston protest organizer Swann Lee said she believed Liang's sentencing was an attempt to address previous incidents involving civilians being killed by police officers.
Liang's sentencing is not consistent, compared to previous incidents with police officers, Lee said. Lee argued that previous cases showed police officers to have "knowingly exerted violence on the other unarmed person," though the officers were not indicted.
Though race is a major factor in recent discussions regarding policing, it should not be a deciding factor in who pays attention to Liang's case, Lee argued.
"I don't feel this should be an issue for Asian Americans only," Lee said. "I personally don't support him because he's Chinese American, I support him because this was an accident regardless of race … My stance is regardless of the ethnicity involved."
Other students said this case is significant because it could add a different dimension to recent conversations of accountability among police officers.
Fan Li, a sophomore in the College of Arts and Sciences, said all officers involved in cases in which innocent lives are lost should be held responsible.
"It was [Liang's] mistake," Li said. "People are saying how American white police have shot African Americans and they weren't convicted, so they think they have to treat Liang like those officers, but they all killed people. Somebody has to pay for it … There should be accountability."
Katie Li, a senior in ENG, said she thought there was a bias in Liang's case.
"Whether the police officer is white or of a different ethnic group, it shouldn't really matter," Li said. "Just because the police officer wasn't white, he is getting punished, and I think that says a lot about how society thinks of people."
Gianluca Sironi, a senior in the Questrom School of Business, said while Liang's conviction may be unfortunate, he hopes that it will establish a precedent for all police officers.
"I wouldn't say that it was clearly unfair, but it does seem like he might be being used as a scapegoat," Sironi said. "Even if he didn't have the intention to harm, there still needs to be accountability. It's a shame that [in the past], people have not paid for what they've done, but maybe this time … it will establish a precedent."