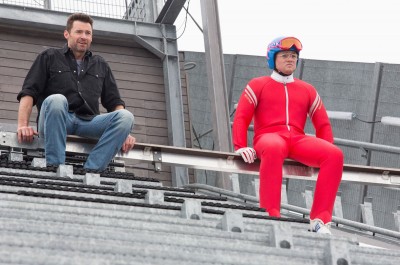 "Eddie the Eagle" has all the aspects of a classic underdog sports movie: a reluctant coach, mean foreign opponents and, of course, a training montage.
The movie is based on the true story of Michael "Eddie" Edwards (Taron Egerton), who barely misses a chance to be on the 1988 British Olympic downhill ski team. Since he had always dreamed of going to the Olympics, Eddie switches to ski jumping. Eventually, he qualifies for the Calgary Olympics despite his non-athletic build, with a little help from his own determination and drunken American coach, Bronson Peary (Hugh Jackman).
"Eddie the Eagle" follows a basic narrative arc similar to many other sports movies. A young boy dreams of going to the Olympics, and all the odds are stacked against him. But in the end, he achieves his goal.
The fact that this movie is about ski jumping, however, makes it stick out among other sports-centric movies. Ski jumping is one of the most dangerous sports, a fact which is time and time again thrown in Eddie's face by his father, coach and opponents. Although it is predictable, the film is based on a true story, so a viewer could research beforehand and find out the ending anyway.
The casting is surprisingly fitting. Egerton does a great job in taking on the role of a silly, dorky kid with a dream. It is easy to sympathize with him because of his constant optimism and dedication to working his hardest (he has a penchant for drinking milk over alcohol). Even his glasses pull the whole underdog aura together, and a montage of Eddie throwing broken glasses in a tin biscuit box his mother gives him acts as a nice motif to get the audience on his side.
The main conflict in "Eddie the Eagle" is Eddie's struggle to convince those around him that he can make it to the Olympics. It gets complicated, however, when Eddie finally qualifies but his coach tries to convince him to wait another four years so that he can build up his skills and actually place.
In that moment, the viewers see another side of Eddie, one that has accomplished his goal and so strongly desires to compete in Calgary. At this point, the movie gains another dimension, moving beyond a simple success story. It explores the questions of what success really means and whether people should keep pushing boundaries once they have achieved a goal.
Jackman's Wild West accent is ridiculous, but his overall portrayal of Eddie's coach Peary is convincing. Though Peary, a disgruntled ex-great ski jumper, refuses to help Eddie at first, he eventually learns to love and encourages Eddie to push himself. Jackman's character is a bit clichéd, but his clever remarks make up for it and redeem him in the long run.
One of the most interesting aspects of "Eddie the Eagle" is the cinematography. The cameras catch the ski jumpers from all angles when they are in the air. They even sometimes focus on their pained facial expressions, giving the viewer a unique look into what the ski jumper sees when he or she is in the air. The use of slow motion also captures the nuances in form that a viewer would not normally notice. Sweeping shots of the landscape in Calgary and the ski jumps themselves emphasize just how big and dangerous the jumps are. Turns out, they are very dangerous, and the cinematography makes them feel intimidating.
"Eddie the Eagle" also has a successful balance between comedy and drama. Most of the movie is funny — the storyline relies on Eddie failing at every sport he tries — but a good number of motivational speeches and endearing moments from Peary prevent the movie from being too silly. The story is a heartwarming one of an underdog who might not be very relatable. However, the film does a good job revealing the danger and wonder that is ski jumping, all through the lens of a dorky kid who seems foolish but really just wants to achieve one of his lifelong dreams.
"Eddie the Eagle" opens Friday in theaters nationwide.