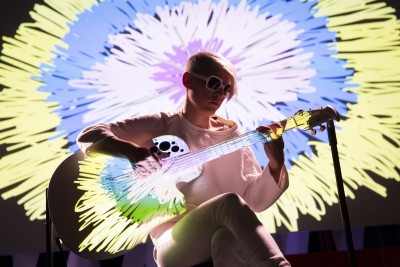 At just four years old, American musician and composer Kaki King learned to play the guitar. The process of learning music came naturally to the young musician, and she eventually picked up the drums as well, leading her to develop a unique, percussion-inspired guitar technique.
Fast forward 32 years, and Kaki King has released over half a dozen albums, received a Golden Globe nomination for Best Original Score in 2007 for her contribution to Sean Penn's "Into the Wild" and performed on talk shows with Conan O'Brien, Jimmy Fallon and David Letterman.
King's latest musical masterpiece involves an innovative, captivating show that combines projection light mapping with songs from her 2015 album, "The Neck is a Bridge to the Body." She will be sharing her masterpiece Sunday at Root Note Studio in Lowell, following a guitar workshop she's holding earlier in the afternoon.
As King plays songs such as popular hit "The Surface Changes," moving images and colors will project on her white resin guitar.
"I had been looking around for a lighting element to my show, something to add that would give the show a little more color and mood," King said. "I discovered projection mapping … I thought, well, how can I make this small and intimate? And suddenly it was very clear. Why can't I do it on the guitar itself?"
Once King figured out logistics involving lighting and shadows, she "started developing the show immediately."
While King doesn't expect audience members to see a clear theme in the show, she said there is definitely an "abstract storyline."
"The first half of the show, things are increasing in complexity," she said. "The second part of the show … things are becoming more humanized and more formed … The second half of the show is the guitar's own journey and its own self-identity and my struggle to have my own identity with the guitar. It's not clear who is in control."
The album itself, which features New York City-based string quartet ETHEL, is very guitar-focused, but "there's some synthesizers doing bass lines and percussion that's from the guitar that sounds like drums," King said.
Another of King's musical talents is composing. Last December, King was commissioned by Pulitzer Prize-winning composer David Lang to perform her original piece "Other Education" alongside an orchestra at Carnegie Hall. King said that the performance was a huge learning process for her, as she had never composed a piece for so many musicians before.
"That was really overwhelming," she said. "It's hard to compose for yourself in an ensemble and then play it. It's so many levels of challenge and in a way, I wish I could step back and have someone else play or just compose and have no guitar … I was jumping into something that was bigger than I expected. But I really enjoyed it."
At Root Note Studio, King's master class will not only showcase her talent, but will teach other musical enthusiasts her unique guitar technique.
"In the master class, it will be very clear that the bulk of my guitar playing is based on drum technique … I play drum on most of my albums in some capacity," she said.
Over the past few years, King said she has enjoyed teaching specialized guitar classes based off her own compositions and distinctive musical technique. She calls her teaching style the "Chicken McNugget technique," a method in which she boils a skill "down to the most basic nugget of information you need to do [a] technique."
King emphasized that anyone has the ability to learn guitar if they first learn basic technique.
"I try to make it clear to people that all these fundamentals, when you slow them down and when you take away the flourish, it's really pretty basic and anyone can learn them," she said. "So anyone can attend and get a lot out of the class, even if they're not whizzing all over their strings."