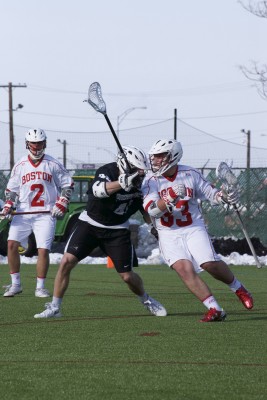 After suffering its first loss of the season against the University of Hartford last weekend, the Boston University men's lacrosse team will look for redemption when No. 16 United States Naval Academy visits Nickerson Field Saturday.
The Terriers three-game winning streak was snapped when the Hawks (1-0) came to town, as they came out on the wrong side of a 16-10 result. BU head coach Ryan Polley said his team has performed inconsistently, and he'll look for improvement across the board.
"We're just looking for a team effort," Polley said. "Just to share the ball, value the ball, don't turn the ball over and make good decisions in transition, which we didn't do against Hartford."
BU played catch-up throughout the entire Hartford game, and while there were moments of strength, the team could not match Hartford's dominance. A major reason for that was goalkeeper Christian Carson-Banister's relative inability to stop the attack trio of Dylan Jinks, Will Dulin and Jaedon Henderson. They finished with a combined nine goals.
Despite the loss, the Terriers are focused ahead on the clash against the Midshipmen (2-1). Navy is coming off a 5-1 win over the University of Delaware, proving its undeniable defensive abilities. The Terriers plan to counter the Midshipmen's defense and have the talent to do so with freshman attack James Burr and sophomore attack Jack Wilson.
"If we value the ball and execute our offense, give our offense opportunities, we are going to get some high-quality chances," Polley said. "We just got to make some shots and make some plays. They certainly have some great defense, but we're excited for the challenge."
After beating Delaware (0-3) last week, the Patriot League showered Navy with weekly honors. Junior Chris Fennell was named Defensive Player of the Week, while senior John Connors was named Goalkeeper of the Week.
Polley is aware of the Midshipmen's strengths, especially after they overpowered BU last season. When the two teams met in Annapolis, Maryland a year ago, the Terriers fell 14-6. However, both teams have come a long way since, and Polley expects an entirely different result from last season.
"We are two completely different teams, and it was our first time being on national television," Polley said. "I think the game and moment was a little bit big for us. We responded pretty well after that game and kind of got ourselves back in a position to play a couple of good games, although we didn't win. I think this year's game will just be completely different."
Moreover, the game will serve as both teams' first Patriot League clash of the 2016 season. Polley acknowledged the significance of the upcoming encounter, but said it's merely another game in which BU plans on employing a measured approach.
"It is just another game, but obviously being the first league game, it is going to be a little bit more important," Polley said. "At the same time, we just want to play a good game. We have not been overly consistent this year, so we are looking for a great week of practice, and we are going against a very good team and we certainly have to meet the challenge and play a great game."