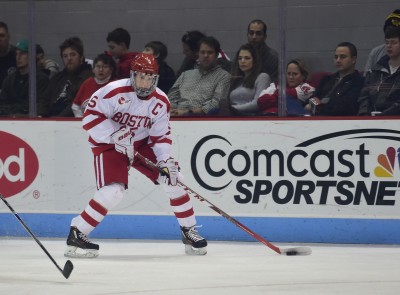 SOUTH BEND, Indiana — The No. 9 Boston University men's hockey team finished up its regular season Saturday night at Compton Family Ice Arena with a 1-0 loss to the No. 10 University of Notre Dame.
With the loss and the No. 11 University of Massachusetts Lowell defeating No. 2 Boston College that same night, the Terriers (19-10-5, 12-6-4 Hockey East) clinch the fifth seed in the coming Hockey East Tournament, meaning they will face the University of Massachusetts in a best-of-three, opening-round series beginning March 4.
Freshman Dylan Malmquist scored the game-opening goal 11:47 into the second period while the Fighting Irish (19-8-7, 15-5-2 Hockey East) were on the power play, and it proved to be all his team needed. Though senior netminder Sean Maguire recorded an almost flawless 27 saves on 28 shots, sophomore Cal Petersen was stalwart in goal, posting a 39-save shutout to keep BU off the board for the full 60 minutes.
"Special teams certainly were the difference," said BU head coach David Quinn. "Obviously they get the power-play goal and we weren't able to capitalize on our three, well two-plus."
Quinn continued on to say that the Terriers' struggles with the man advantage might have even hindered them a little bit during the game. He said he thought it "zapped" some of their momentum, deflated them a bit and ended up giving Notre Dame "a little bit of a pick-me-up."
"Sometimes what can happen on a power play is you lose sight of the fact that you've got to play hockey within a power play," Quinn said. "Go here, do this, do that, and you've got to play hockey within the power play, and I think when we're not effective on our power play, we don't play hockey within our power play. We go to our spots. I just thought we lost some one-on-one battles, I thought we were a little inept coming up ice, and it cost you."
Senior captain Matt Grzelcyk echoed his coach in saying the power play had "a tough time getting in the zone and really establishing any offense." He was optimistic, though, noting that if the Terriers passed the puck more quickly, get more shots and have more bodies by the net, things will work themselves out.
His classmate, assistant captain Matt Lane, added he thought BU won the 5-on-5 game Saturday, just like it had the night before in its 3-2 win, but "it just didn't go in" for the Terriers.
And while it may have won the 5-on-5 game Saturday, the beginning of BU's third period at 5-on-5 wasn't all that dominant. The Terriers were hemmed in their own zone for most of the first half of the final frame.
Grzelcyk and Quinn credited the Irish for coming out hard in the third, but Lane mentioned BU knew it had to make a few adjustments.
"We knew we were standing still too much," he said. "We gathered during one of the TV timeouts, and we had to get back to playing fast, playing north and south. I thought we did a good job of that. Again, it just didn't pop in for us."
As the third progressed, like Lane said, the Terriers began putting ample pressure on Notre Dame and had a lot of good chances. However, Petersen was there to stop all of them.
"He's a great goalie, they're a good team, well coached, they've had a great year," Quinn said. "Just disappointing from our end of it because I thought we played well both nights."
Had the Terriers managed even a tie with the Irish, they would have secured a top-four seed and a first-round bye in the conference tournament by virtue of having one more point than UMass Lowell (21-8-5, 12-6-4 Hockey East) in the standings, but the loss Saturday negated that possibility.
"Obviously lick our wounds from tonight, they can feel sorry for themselves for the next 24 hours, but you get to play more hockey," Quinn said. "That's how you got to look at it. It's an opportunity to get better, it's playoff time, it's the best time of year."