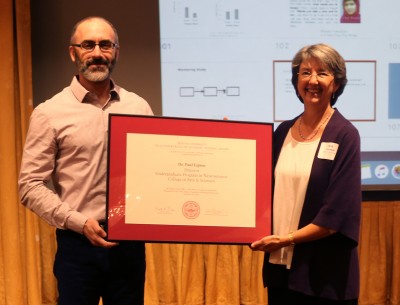 Two members of the faculty were awarded the inaugural Boston University Academic Advising Awards on Friday.
Paul Lipton, director of the Undergraduate Research Opportunities Program, and Faith Nussbaum, assistant director of the Questrom School of Business Undergraduate Program Office, were honored with the Faculty Academic Advisor award and the Professional Academic Advisor award, respectively. The announcement took place during the third Office of the Provost Annual Academic Advising Symposium, and each awardee received $1,500.
"Each one of our students has their own unique story to tell," Lipton said in his acceptance speech. "The young folks we are with are not only students or paychecks or the reason why lunch is so long … They're individuals who must be given the opportunity to explore what it means to be a student."
While Nussbaum and Lipton work with different students, they both said a central aspect of their jobs is supporting the students and helping them make the right decisions with their academic plans.
"The conversations I have are not meant to infantilize, but to empower," Lipton said. "Our students have to take an active role in their education. Our job is to empower them by using their stories as our guide."
In her acceptance speech, Nussbaum said her role as an advisor is to encourage students to follow their desires in their education, and she emphasized that an advisor who gives helpful assistance in a student's decision-making is most effective.  
"Instead of being the person who tells them, 'No, you cannot do that, that's crazy' … I get to be the person who helps them to evaluate all of their choices," Nussbaum said. "I find that though it takes longer, being an ally is a lot more productive in the long run."
Elizabeth Loizeaux, associate provost for Undergraduate Affairs, said the awards recognize advisors who "have had a significant impact on students' academic careers" and encourage exemplary academic advising at BU.
A seven-member committee selected Lipton and Nussbaum from this year's 40 finalists by considering peer and student testimonials in addition to the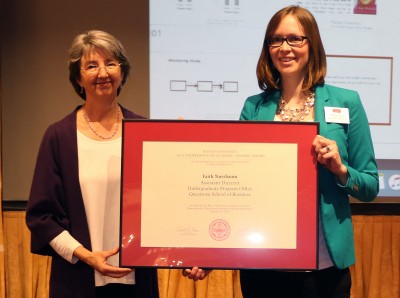 candidates' personal statements, Loizeaux explained. The qualifications for the awards were modeled off awards given out by the National Academic Advising Association, she added.
"It was a group effort in the advising network to recognize the work that our academic advisors do and the importance of academic advising at the university," Loizeaux said. "Advising is an extension of the university's teaching mission, so it seemed important to recognize the hard work that our advisors do."
Several students echoed Loizeaux's opinion that academic and professional advising is critical to the BU community.
Soni Razdan, a freshman in the College of Arts and Sciences, said she relies on advisors and thinks they do not get enough recognition for their work.
"I see an advisor once or twice a semester," Razdan said. "They're helpful for all of the BU community for picking the right classes and staying on track. It's good they're being recognized, because they do a lot and they do a lot more than they are given credit for."
Jiale Wang, also a freshman in CAS, said he sees his advisor several times each semester and agrees that they should be recognized for their work.
"I see [the advisors] for my schedule and for advice on choosing a major," Wang said. "Advising is important for all BU students, because not everyone has a clear path for college life, so advisors can help them organize that. It's good that they're starting to receive more recognition for their work."
Carlton Duffett, a senior in the College of Engineering, said while he doesn't see an advisor often, he sees their value to the BU community.
"Advising is valuable, but mandating advising is not the best approach," Duffett said. "People need the foresight to carefully pick an advisor who can help them do what they want to do. I've been through four different advisors, and now I have one who knows what I want to do and is more of a mentor than an advisor. Academic advising, or academic mentoring, is something the community needs as a whole."