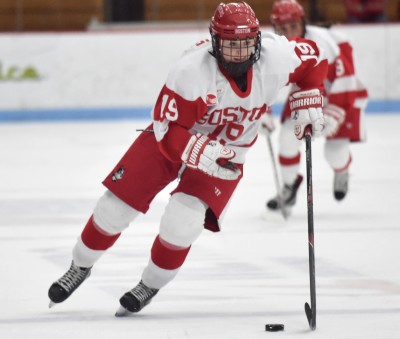 The Boston University women's hockey team began its Hockey East title defense last weekend, skating past the University of Vermont in a best-of-three series at Walter Brown Arena.
The Terriers (22-13-2, 17-5-2 Hockey East) secured a 3-0 win Friday night, the Catamounts (9-25-3, 6-15-3 Hockey East) defied expectations in a 4-2 victory Saturday afternoon and BU clinched the series Sunday afternoon through a commanding 6-1 result.
In Friday's encounter, the Terriers controlled the contest and had their efforts rewarded when senior defenseman Lillian Ribeirinha-Braga bested goaltender Madison Litchfield with 34 seconds left in the first period. She capitalized on a saucer-pass feed from sophomore forward Rebecca Leslie, and BU was kept quiet throughout the second period.
Freshman forward Sammy Davis then extended the lead while lying down 3:19 into the third frame, and senior captain Kayla Tutino added an insurance tally 4:27 into the period.
While Vermont pulled its goalie for an extended amount of time as the clock ticked away, it couldn't get one past sophomore goaltender Erin O'Neil, who finished the night with 25 saves.
"Erin played great," said BU assistant coach Allison Coomey. "I think our [defense] played great in front of her as well, so she was able to see a lot of shots, but also just putting them into the corners and getting them out of harm's way, she did a great job out there."
With a shutout in hand, the Terriers returned to ice Saturday in hopes of clinching a berth in the semifinals. However, they were blindsided when Vermont opened up a three-goal lead a little less than halfway through the second period.
BU head coach Brian Durocher said his team got complacent after the previous night's 3-0 rout.
"I think maybe we took them a little bit lightly and we weren't quite spot-on defensively," he said. "And you know, if that game's 1-0 late in the second or going into the third, it's a different ballgame. But we only get the two. We let them get to three, it's a big cushion. Even with the home ice charge, late charge, it's too little too late."
BU stormed back midway through the third period when sophomore wing Rebecca Leslie dangled her way to a fifth shorthanded goal and then assisted another just under one minute later off the stick of sophomore center Victoria Bach.
Despite the late flurry, Litchfield regained her composure between the pipes and preserved a 4-2 Catamount win.
"I thought the last five minutes of the second period and probably a decent amount of the third we played with a sense of urgency because we were down 3-0," Durocher said. "… But we have to have [the same] sense and see when the puck drops tomorrow and a sense of preparation tonight and tomorrow. And certainly respect for your opponent."
The Terriers took Durocher's words to heart Sunday with their season on the line.
Just over four minutes into the first frame, BU capitalized on a Vermont penalty when Tutino, recently demoted to the third line, tapped in a rebound off a wrist shot from senior forward Sarah Lefort.
"We always feel as a team that when we have a good start, it keeps the positivity and it keeps the momentum going for us," Tutino said. "So we thought that it wasn't a terrible start yesterday, but it wasn't a start that we knew we could have. Today we proved that we came out strong, and we played as a team and we kept it simple. Keeping it simple led to a power play, it led to putting the puck on net, it led to just going to the net and sticking on the ice."
With the helper, Lefort etched her name deeper into the BU history books. It marked her 182nd point, which leapfrogged her past former teammate Marie-Philip Poulin for the most in Terrier program history.
The senior winger added to her illustrious point total again to start the second period when she took advantage of another Bach pass, this one right in front of the crease, for an easy lamp-lighter.
The game was never in doubt for the Terriers, who opened up a 6-0 lead through two periods on two Leslie goals and a tally from freshman Mary Grace Kelley, who recently made the switch from forward to defenseman.
Vermont erased O'Neil's shutout bid in the third period when a puck deflected off BU junior defenseman Alexis Crossley and into the net. After the one blemish, the Terriers secured the 6-1 result.
Tutino said the key for the Terriers on Sunday was regaining their respect for the Catamounts.
"Playoff hockey, it doesn't matter who you're playing," she said. "We played [Vermont] yesterday, and they put [four] goals in on us. So you can never doubt your opponent, and today, we didn't doubt them and it got us the win."
The series win advances the Terriers to Saturday's Hockey East semifinal, where they will meet crosstown rival No. 6 Northeastern University at Merrimack College's Lawler Rink.
Durocher said the team felt the extra motivation Sunday with its season on the line, and it must maintain that sense of urgency going forward.
"We get another chance to go to the final two games of the year in Hockey East," Durocher said. "These kids believe in themselves. It's going to be a tall task with Northeastern and [Boston College] in front of us, but at least we gave ourselves a shot. Without a doubt, they had to have the extra motivation, the extra energy coming into today, and it showed."