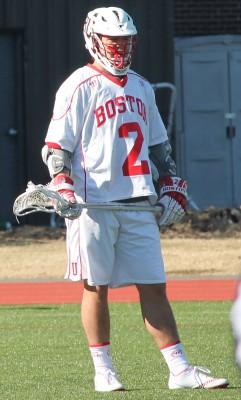 In one of the more dramatic games in team history, the Boston University men's lacrosse team pulled off an 10-9 overtime win over No. 16 United States Naval Academy Saturday afternoon at Nickerson Field.
The upset victory helps to solidify the young program as a contender, as it began its Patriot League schedule on the right foot. Despite totaling only three goals at halftime, BU (4-1, 1-0 Patriot League) never fell far behind the Midshipmen (2-2, 0-1 Patriot League) , as its resilience kept the contest close even when the visitors controlled the proceedings.
Freshman attack James Burr and sophomore attack Jack Wilson both recorded hat tricks, with Burr scoring the game-winning goal in the second overtime. Junior goalkeeper Christian Carson-Banister also came up huge with 15 saves, including five stops in the overtime periods.
"I'm just so proud of the guys and how we battled," BU head coach Ryan Polley said. "We knew it was going to be just a really tough team. Navy is outstanding, they're aggressive, they're terrific in almost every phase of the game. We knew it was going to be an all-out battle, and I'm just so proud of the way that the guys fought and clawed and made all of those hard plays that we talked about all week."
In the first quarter, BU struggled to gain possession of the ball, often allowing the Midshipmen extended control on offense. Navy scored three times in the opening stanza, but the Terriers received two man-up opportunities and capitalized on both. Wilson got BU on the board first with 10:04 remaining in the quarter, and junior attack Ryan Johnston tallied his third goal of the year nearly six minutes later to head into the second down 3-2.
The second quarter began with Navy's Casey Rees scoring a man-up goal, extending his team's lead to two. It seemed that deficit would remain, but a Midshipmen turnover opener the door for junior midfielder Cal Dearth. He raced downfield and fired past Navy's John Connors with only four seconds left to make it a 4-3 game heading into the locker room.
It's a game-winner from James Burr. 10-9 win for @BUMensLacrosse over @navymlax in double OT pic.twitter.com/C7SMvg8UA7

— DFP Sports (@DFPsports) February 27, 2016
Despite a first half in which his team totaled as many turnovers (12) as shots, Polley noticed his team's confidence shot up after Dearth's timely goal.
"Cal's goal at the end of the first half was huge, and to only go into halftime down one goal and having 12 turnovers, it gave us a ton of energy," Polley said. "It said, 'Listen, we're down, we have 12 turnovers, we're playing sloppy, but if we execute and value the ball, we're going to be right in it in the end.'"
As the game wore on, Polley said BU's offense found its rhythm by giving the ball away less and finding better shots.
"The guys did a great job and had a great third quarter because we cut down on our turnovers," he said. "Guys did a great job of maintaining possession, sharing the ball and working the ball for a good shot. It was more or less just guys being a little more focused and having a little bit more confidence."
In that third quarter, the Terriers outscored Navy 4-1, thanks to two goals from Wilson, one from Burr and another from junior attack Adam Schaal. Consequently, BU went into the fourth quarter up 7-5 and with lots of confidence.
Right on the stroke of halftime, Cal Dearth sprints downfield to make it a 4-3 game. That's all the first half wrote pic.twitter.com/fJ2eOiDr7O

— DFP Sports (@DFPsports) February 27, 2016
However, Navy came storming back, scoring four straight goals in five-and-a-half minutes. Despite trailing with little time left in the contest, the Terriers' resilience paid off once more.
Burr scored off a feed from Dearth with 1:39 remaining, then junior face-off specialist Sam Talkow tied the contest up with only 47 seconds left. The game would then go into overtime, the first such game for BU as a program.
The first overtime period was a battle of the goalies, as Connors was called into action several times and Carson-Banister made three spectacular stops, including one with his foot.
With precious seconds ticking away in the second overtime period, freshman midfielder Brendan Homire proceeded to find Burr in front of the net, who made no mistake in ripping one past Connors to give BU the win.
After the game, Polley said he had a simple message to his team heading into its first ever overtime contest.
"Just keep playing the way we were playing," Polley said. "We were playing hard, we were playing smart, guys were giving it their all. We got a couple of kills on the defensive end, and obviously Carson-Banister made some great plays. Everybody played great, just an unbelievable team win, unbelievable team effort and [guys] one through 51 should be proud."