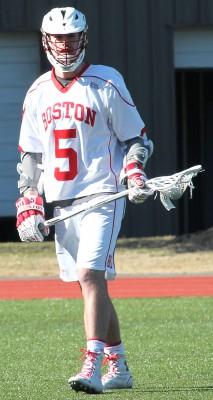 As a third-year program, the Boston University men's lacrosse team has accomplished many firsts in its brief history.
Chalk another one up, as BU (4-1, 1-0 Patriot League) defied all expectations in Saturday's 10-9 double overtime victory over No. 16 United States Naval Academy at Nickerson Field. With an upset and game-winner from freshman attack James Burr in hand, BU head coach Ryan Polley said his team definitely made a humble statement to the college lacrosse world.
"If we do things and we execute and are poised and are disciplined, there's a lot of talent in the room," Polley said. " … It's a message that we can play with those teams, but we still can't just show up and play. We got to practice hard, take it one play at a time, one quarter at a time, one game at a time."
Reciting his "one play, one game at a time" mantra, Polley also took note of the massive impact goalkeeper Christian Carson-Banister had against the Midshipmen (2-2, 0-1 Patriot League). The junior racked up 15 saves on the afternoon, often frustrating persistent efforts from the likes of senior T.J. Hanzsche and sophomore Jack Ray.
Looking at the big picture, Carson-Banister reflected upon how Saturday's grand stage was a familiar place for the Terriers. BU knocked off a surging Bucknell University side at home last year, and emerged victorious in a thriller against the College of the Holy Cross back in 2014.
With those "nail-biters" and an ever-present blend of youth and experience, BU stayed the course even when Navy got ahead.
It's a game-winner from James Burr. 10-9 win for @BUMensLacrosse over @navymlax in double OT pic.twitter.com/C7SMvg8UA7

— DFP Sports (@DFPsports) February 27, 2016
"We've played from down before and have guys that are experienced, and they really showed the younger guys how to stay poised, stick to the game plan, don't deviate from what we do and play fundamentally," Carson-Banister said. "I think the younger guys did a great job and we've played in some tough games this year where the experience that they've gained from those games [let them] execute extremely well."
Sophomore attack Jack Wilson, who finished with one of BU's two hat tricks, estimated Saturday's showing was the product of far more than a focused approach on game day.
"I wholeheartedly believe that we beat Navy throughout the week," Wilson said. "It was Monday through Friday that got us there. Coaches all the way down through everyone on this team, we all challenged each other, held each other accountable in every single aspect of what we do on a day-to-day basis and it just showed."
Burr, who netted BU's other hat trick, expanded upon Wilson's sentiments. He said the Terriers took advantage of their limited opportunities, but it was harnessed momentum that proved to be the difference.
"I think what it came down to was this week we put a big emphasis on energy and bringing more energy than we did last weekend," Burr said. "I just thought we had more energy than Navy throughout the game and in those tough situations we came through because we worked hard in practice this week."
It's yet another @BUMensLacrosse goal. Adam Schaal rips in a man-down goal. @navymlax is on the ropes. 7-5 game pic.twitter.com/Lia6UJ0uVy

— DFP Sports (@DFPsports) February 27, 2016
Looking ahead, there is every possibility that BU enters the national rankings for the second time in program history and takes home conference awards. However, that's not of concern to the Terriers, as Polley said his team will get right back to business Monday, all in preparation for a trip to play Canisius College next Saturday.
There certainly is a feel-good atmosphere amongst the BU ranks, but the players said they realize it's a long season. Carson-Banister said BU never lacked in confidence before the Navy game, but knows when the going gets tough it "can still win no matter what."
"[This] definitely gives a boost in confidence, but now it's about that confidence and taking it each week and applying the exact same confidence," Carson-Banister. "That's how we're going to be successful and maintain consistency."