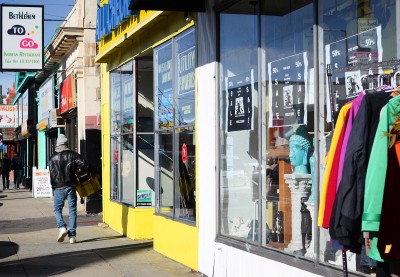 Boston Mayor Martin Walsh signed an executive order Wednesday to ensure equal opportunity for women- and minority-owned businesses, according to a Wednesday press release.
According to the release, the order takes several steps to "address racial and economic disparities" in Boston.
"This Executive Order sets spending goals for minority and women owned businesses competing for contracts in construction, architecture and engineering and professional services," the release stated. "Additionally, the City will provide training and assistance to minority and women owned enterprises to encourage successful bidding and performance on City contracts."
Karilyn Crockett, director of economic policy and research for the City of Boston, explained the importance of increasing the participation of minority- and women-owned businesses in getting city contracts.
"There are more than 40,000 small businesses in this city, and it's really important that we support and nourish the growth of these businesses," Crockett said. "For businesses owned by women and people of color, it's really important that the city has a way of engaging these businesses so that they can grow their bottom line and increase their capacity so that they're able to compete for larger and larger city contracts and contracts with the state as well."
Efforts to aid women- and minority-owned businesses in the contracting process have been successful in the past. According to Crockett, Walsh and Massachusetts Gov. Charlie Baker partnered in November to create a streamlined cross-certification process for businesses owned by women that made it easier for them to navigate and take advantage of public contracts.
According to the release, the order will pave the way for a new disparity study that will analyze racial, ethnic and gender bias in city procurement. The study is expected to launch by the end of this year and will lead to further examination of policies and goals that encourage the use of minority- and women-owned businesses.
Constance Armstrong, executive director of the woman-leadership advocacy group The Boston Club, praised the mayor for his efforts toward making city contracts accessible for all.
"The Boston Club applauds Mayor Walsh's efforts to level the playing field for minority and women-owned businesses competing for city contracts," Armstrong wrote in an email. "The Club, whose research since 2003 has consistently found significant gender disparities on the boards and in C-suites of the top public companies in the state, welcomes the city's disparity study to analyze racial, ethnic and gender bias in City procurement."
Several Boston area professors shared their thoughts on the new order. Carrie Preston, director of Boston University's Women's, Gender and Sexuality Studies, wrote in an email that she supports the mayor's order but also thinks more needs to be done to fix gender bias in the city.
"Boston has a terrible history of racial, ethnic, and gender bias, as well as a reputation for cronyism and inequity in awarding city contracts and jobs," Preston wrote in an email. "Mayor Walsh is taking important steps towards improving Boston, but much more needs to be done to achieve the necessary cultural transformation. That's going to take partnerships between the city and other local institutions, including universities."
Kamran Dadkhah, a professor of economics at Northeastern University, wrote in an email that there are potential limitations of the order.
"Diversity and ensuring equal opportunities for women and minority owned businesses are lofty goals," Dadkhah wrote in an email. "One disturbing aspect of Mayor Walsh's executive order is that it seems to establish a quota system. Quota systems are wrong tools and policy options for fighting discrimination or trying to ensure equal opportunities. Indeed, in the long run quota systems harm the interest of those it was intended to help, that is, women and minorities."
Several Boston residents shared their opinions of the order.
Jamie Ahu, 31, of Back Bay, said while she believes it's a good idea to give women more opportunities, they shouldn't be pushed into certain industries.
"I think that if women are interested, then we should definitely encourage them to do so and provide the opportunities," she said. "But if women aren't flocking to a certain industry, I don't think that it's something that we should push them into if it's not something they want to do. What if you start excluding people that are more qualified than these women or other minorities … because they're a white male? Then you don't give them that opportunity?"
Kevin Hartman, 58, of Kenmore, said he supports the order's efforts to make things more equal.
"I think the order will level the playing field a little more for those who don't know how to bid [for city contracts] and those bid all the time and know how to," he said.
Juanita Duran, 31, of Brighton, said she hopes more people find out about the order.
"The city should publicize it more so that more people are informed," she said. "As a minority woman, I think the order is great for the city."