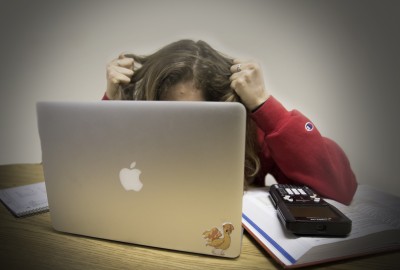 Though spring break is just around the corner for Boston University students, rest will not come easy until Friday because of those pesky midterm exams professors schedule the week before vacation.
If one were to walk into the library or a study room on campus, they would find that college students often feel a large amount of stress during times like these.
Nancy Sin, a postdoctoral fellow at Pennsylvania State University's Center for Healthy Aging, recently spearheaded a study on stress. Also involved were David Almeida, a professor of human development and family studies at Penn State, and Richard Sloan and Paula McKinley, both professors of behavioral medicine at Columbia University. According to their findings, a person's reaction to stress has a greater impact on health than the frequency of the stress itself.
"In our study, we examined daily stressful events, which are common hassles and frustrations in everyday life such as getting into an argument, having a work deadline or being stuck in traffic," Sin said. "Unlike major forms of enduring stress or trauma, daily stressors occur fairly frequently. People with more education and perhaps more roles and responsibilities tend to have more of these minor stressful events, probably because they are involved in many activities."
Sin collected data from a total of 909 participants aged 35 to 85 years old, according to a news release published Thursday by Penn State. Participants were asked to report whether or not events occurring during their days were either "not at all," "not very," "somewhat" or "very" stressful. The release summarizes that participants of the study had at least one stressful encounter 42 percent of the time during which they were interviewed.
"Our data show that people with more daily stressors actually are a bit healthier than those with fewer stressors, and this is often explained by education level," Sin said. "Therefore, the frequency of minor daily stressors is not a good predictor of health."
Sin measures the "health" of a person by calculating their heart rate and inflammation.
"We have consistently found across multiple studies that people who have heightened negative emotions when faced with a stressful event tend to have worse health, including low heart rate variability and elevated inflammation, which can put them at risk for heart disease," she said. "It's possible that these exaggerated stress responses can accumulate over time to contribute towards biological wear and tear."
Sloan was largely involved in collecting this data and performing the analysis related to heart rate variability, which he defines as the measure of the autonomic nervous system regulation of the cardiovascular system.
"Most people tend to think that it's good to have a steady heart rate, but in fact, having a very steady unvarying heart rate is a marker of poor health and it's good to have heart rate that varies," Sloan said. "A cardiologist friend of mine often says that the heart is happy when it dances."
While this particular study focuses on older adults, it could also hold implications for stressed college students.
"If I were to speculate," Sin said, "I'd say that college students who experience more negative emotions when they encounter stressful events might be more likely to develop depressive symptoms or engage in poor health behaviors that can lead to obesity, inflammation and other risk factors that are important for heart health."
Laurel Green, a freshman in the College of Communication, is actively involved in BU sorority life as a member of Sigma Kappa, HerNetwork BU as a marketing committee team member and photography club. She describes her workload as fairly moderate, but at times, she has encountered stress.
"My history class in particular consists of lengthy weekly readings while my writing class consists of papers and research, so the amount of time it takes up is stressful," she said. "It gets most stressful with the overlap."
To overcome feeling this way, Green said she makes time in her schedule to relieve stress and better manage her time.
"I go to yoga or spin classes and it gives me a nice amount of time to focus on something else aside from school and activities," Green said. "It's nice, though, because I've found workouts that I actually enjoy, and that helps even more with relieving stress."