Mike Rezendes, a Pulitzer Prize-winning Boston Globe reporter and Boston University Class of 1978 graduate, spoke to members of the BU community and the public Tuesday about his experience working for the Globe's Spotlight Team.
Approximately 400 people attended the talk hosted by the Howard Gotlieb Archival Research Center in the George Sherman Union's Metcalf Hall.
The Spotlight Team won a Pulitzer Prize for Public Service in 2003 for its investigative work that uncovered systemic sexual abuse within the Boston archdiocese. The process of putting together the award-winning pieces was turned into "Spotlight," a film that won Best Picture and Best Original Screenplay Sunday at the 88th Academy Awards.
"We sit around and talk," Rezendes said during his speech. "We sit at our desks and read musty court documents and we talk on the phone. You think that makes a good movie? Good luck to you."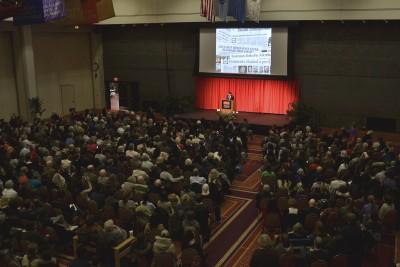 During his speech, Rezendes said he and his team underwent thorough interviews with "Spotlight" screenwriters Tom McCarthy and Josh Singer to reproduce their reporting process.
"They interviewed all of us on the Spotlight Team not just over a period of hours or days, but over several months," Rezendes said. "I drove Josh and Tom around Boston to show them the neighborhoods where Father John Geoghan worked and preyed upon young children. They wanted to produce something very authentic and very true to life."
When asked about what has been keeping him occupied recently, Rezendes answered before the talk that he is "in the middle of another big Spotlight project and hoping to get it finished in the next few weeks."
Rezendes had worked as a political writer for 10 years before he was asked to join the Spotlight Team due to his breaking news record.
"I always thought being on the Spotlight Team was one of the most important jobs in American journalism," Rezendes said. "Democracy doesn't work without investigative reporting. It's really up to journalists to hold powerful institutions and powerful people accountable for what they do and what they say."
Rezendes said during his speech that the future of journalism is "imperiled" and is facing a crisis due to the constantly shrinking newsroom.
"The crisis is with smaller and medium-sized newspapers in smaller cities around the country," Rezendes said. "You have organizations that have decimated their staffs. Very often, investigative reporting is the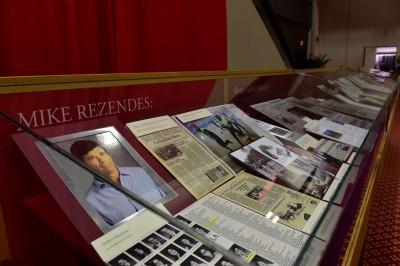 first to go. City halls and state houses are not being covered, [and] it's an invitation to widespread corruption."
Kate Stringer, a research and public information administrator at the HGARC, said the value of good reporting cannot be underestimated.
"In the Globe's front page this morning, they've reported just as a result of the Oscar wins [that]
apparently the lawyer, Mitchell Garabedian, was flooded with phone calls throughout the Oscar ceremony of victims coming forward," Stringer said before Rezendes' speech. "[The victims] finally felt comfortable sharing their stories and bearing witness to the crimes that had been committed against them."
Several BU students said after the speech that they enjoyed the film "Spotlight" and Rezendes' insight on journalism.
Huirong Ye, a sophomore in the College of Communication, said she attended the talk because she enjoyed the movie and appreciated it deeply as a journalism major.
"I saw the movie last year and it was my favorite [movie]," Ye said. "I'm a journalism student, and everyone tells me journalism is declining or journalism is dying. Journalism is still powerful."
Nicolette Archambault, a junior in the College of Arts and Sciences, said though daily coverage of news is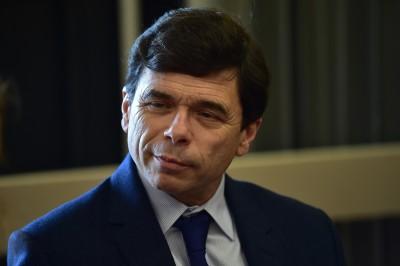 important, investigative journalism is valuable in uncovering untold truths.
"Nowadays, people want it fast," Archambault said. "Investigative journalism takes months, or even years, to do. It takes a lot of work and effort, and I feel like people aren't really interested in it, which is a bad thing. We need more people to get involved with it. Just because something's fast doesn't mean it's correct."
Gabriella Bellemo, a freshman in COM, said she admires the influence and integrity of journalism though it isn't a high paying job.
"With the Oscars that happened just this weekend, this just seems so current and relevant and pressing," Bellemo said. "One of the greatest things [Rezendes] said was how you don't make a great living in journalism, but you live a great life knowing that your job is gratifying and having the comfort you're doing something for the greater good."
Ellen Cranley contributed to the reporting of this article.