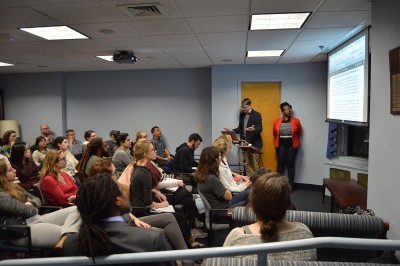 The Boston University School of Education hosted on Tuesday the first "Critical Conversations and Coffee," a series of dialogues for SED students and faculty members to discuss topics that may not explicitly come up in classrooms, such as race and class in schools.
Approximately 35 members of the BU community attended the discussion, which was led by SED Professor Sherell McArthur and organized by the SED Elementary Education and Social Studies Education programs. McArthur opened the discussion by describing the conversation as a "safe space" and emphasized the importance of having an open dialogue.
"This semester, I said we need to have a dialogue series," McArthur said. "We need to be in constant conversations with not only just the students in my class, but in SED and for all BU students. It's my belief that students need to have these types of conversations to be uncomfortable in our space together so they can be more comfortable with their future students."
The discussion centered on the recent racial controversy that took place at Boston Latin School, a public exam school in Downtown Boston. In recent months, two female, African-American students spoke out through a social media movement by the group Black Leaders Aspiring for Change and Knowledge at BLS about the prevalent and consistent racism they have experienced at the school.
McArthur said she hoped the dialogue series would help students in SED realize that social issues such as the ones highlighted by the BLS students occur openly in classrooms, and that the series would teach students the best way to deal with similar problems.
"I want them to have more comfort — for one, knowing what's happening but also having more comfort in talking about what's happening," McArthur said following the conversation. "[I want students] to have the ability to unpack something they might see on the news or in popular culture, and how that might relate to their future students."
Several students, teachers and professors spoke out at the meeting and highlighted the need for stronger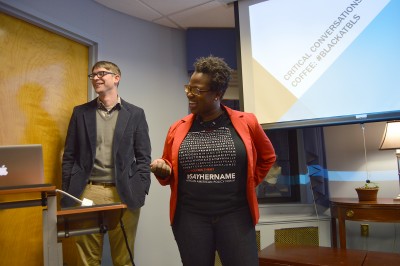 and more unified responses from school faculties and officials when racism occurs in schools. Some attendees also said it is the responsibility of the teachers to be aware and culturally sensitive of these issues so they can be prevented.
"We hope that this will be a launching point for those of us in the room to have a conversation around what we do as future teachers, future administrators and other folks who work in the schools," Christopher Martell, a professor in SED, said. "How do we become allies for students who are facing racial discrimination and racism in schools?"
More dialogues about race will lead to better changes in the future regarding policies about racism in schools, McArthur said after the discussion. She also said it is necessary to "talk about these things with students so that we can be agents of change for the future."
"I really hope that [students and faculty] walk away with an understanding of, 'How can I put this into practice in my space? I'm just one person, but what can I do in my classroom? What can I be doing that will help to change the world?'" McArthur said after the conversation. "And that just takes one person at a time."
Several attendees said the inaugural dialogue was a good way to open up a more comprehensive conversation about controversial issues in school systems.
Jennifer Bryson, a professor in SED, said the turnout was exciting because it meant people were interested in discussing and making changes in issues that were the focus of the meeting.
"It's really exciting to see how many people were here and how they want to talk about these issues that are happening," she said.
Laura Johnson, the associate dean of Student Affairs in SED, said the gathering opened up a discussion of prevalent problems in today's society that are affecting schools and students.
"It's really good that we have things like these, because issues of diversity are really important to discuss," Johnson said. "In today's conversation and future conversations, it's important to keep talking about these issues."
Cassandra Rousseau, a sophomore in SED, said conversations like these are special because they expand discussion outside of lessons in the classroom.
"I came today because I'm a student in her [McArthur's] SO210 class and I just love hearing her speak," Rousseau said. "It really opened my eyes."