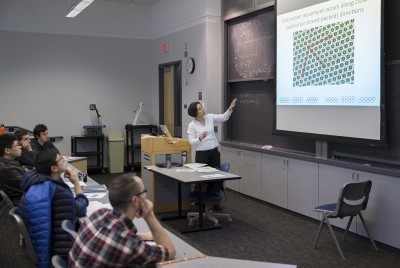 Let's face it. Getting out of bed, sitting through long lectures or walking up and down Commonwealth Avenue between classes are not highlights of the day. These tasks seem tedious, but these simple actions define a physical independence that is often taken for granted.
These monotonous motions and the science behind them fascinate Elise Morgan, a mechanical engineering professor in Boston University's College of Engineering. Morgan is a recipient of numerous faculty and research awards and was recognized as one of 100 Inspiring Women in STEM by INSIGHT Into Diversity magazine. Morgan has been researching mechanical behavior, structure and biological function of tissues at BU since 2003, shortly after finishing her stint as a postdoctoral fellow at the Stanford University School of Medicine.
"I've always been really interested in the human body and its ability to support the physical activity that we have to do," she said. "I've always been interested in how important it is for us to be able to do those activities of daily living, not only for our physical well-being, but also for our mental well being."
Since discovering her interest in human movement and the abilities of the skeleton, Morgan has immersed herself in the world of mechanical engineering. She's taught numerous classes, one of which she designed on her own, all while working on multiple research studies and seeing countless students through Ph.D. dissertations.
One of Morgan's current projects, which she has been working on since 2003, focuses on the biomechanics of spine fractures.
The team developed a challenging experimental method involving sophisticated imaging and mechanical testing. The goal is to develop a method of predicting age-related spinal fractures. It can, however, be difficult to see where the spine breaks first. In order to determine this, the team works with segments of actual human vertebrae, applying pressure to pieces until they break. Integrating that information with high-resolution CT scans produces tons of data and images.
"We wanted to analyze those images quantitatively to see where the bone was actually breaking first," she said. "The technique to do that had been done with much smaller image data sets and with objects that were pretty regularly shaped, like a rectangular box. But we have this pretty irregularly shaped region of the spine."
Contradictory to crushing human spines, Morgan is also involved in a bone healing study, in which she focuses on understanding how forces that are applied to a broken bone influence how the bone heals.
"If a kid injures her right thighbone and that stunts the growth, the growth is stunted in one leg but not the other," Morgan explained. "So, that child can develop a big difference in her leg length. In that situation, if the difference in leg length is more than a half inch, that child might undergo a procedure to actually lengthen the bone."
With growing medical technology, scientists have developed a clinical process that can extend the bone. Every 12 hours, a surgeon cuts the bone in half and stretches the two halves apart. The process can actually make a bone up to seven inches longer, Morgan said. For this study, the team is analyzing how bone fractures heal in mice.
The process of approaching new studies and tackling big-picture questions can take a long time. Morgan and her team, however, have somehow continued to stay enthusiastic for years.
"Research comes in spurts," she said. "Overall, it's just a very dogged test of persistence, in that results can be really slow and forthcoming and you can have a lot of setbacks."
Morgan and her team have had to hurdle over obstacles, such as broken equipment, a lack of funding, minimal time and some unexpected oversights. But by encouraging her students to focus on critical thinking, keeping an open mind and staying persistent, Morgan's energy and inspiration have not wavered despite the obstructions.
"For me, what makes it all worth it are actually two things: one is that excitement of discovery," she said, "and the other thing I love is working with students and that process of discovery."
Luckily, BU seems like the right place for Morgan. Just as her students keep her motivated, she works to leave an imprint on their lives too.
"It's important to focus on having an impact," she said. "In the classroom, it's a positive impact on students understanding the course material and how it fits in their overall program of study and in their life. In the lab, it's on having an impact on training students. Overall, it should be having an impact on society's knowledge and everyone's quality of life."