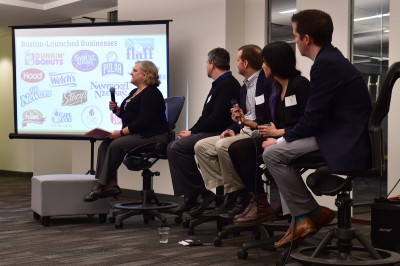 "How to Succeed in Business Without Really Trying" may be the name of a popular musical, but it's not the reality for up-and-coming entrepreneurs in the current food and beverage industry. That's where The Capital Network and Branchfood stepped in to help startups launch and maintain a successful business no matter the obstacles that pop up along the way.
The Capital Network and Branchfood hosted "Funding 101: Pathways for Funding Food and Beverage Startups," Tuesday at CIC Boston to guide entrepreneurs on their journey to success. Attendees learned tips and tricks to growing a business from the bottom up from a veteran panel of investors, entrepreneurs and advisors.
This was the first collaboration between The Capital Network and Branchfood, and both organizations aimed to use the event to highlight the consumer side of the industry and various fundraising strategies for startups.
"The mission of The Capital Network is that we want to educate entrepreneurs by giving them the tools to be able to sign, access and go through the fundraising process," said Meredith Sandiford, executive director at The Capital Network. "Part of that challenge is helping people figure out what's the right way to go about doing that. People get so excited about being seen especially on shows like 'Shark Tank' that they think that's how they'll achieve success."
Lauren Abda, founder of Branchfood, wrote in an email that in 2015, major packaged food companies lost billions of dollars as consumers began to opt for fresher, healthier alternatives.
"Big food is attempting to stay relevant through the acquisition of contemporary brands, though for these legacy food giants, it's difficult to shake the brand perception they've created," she wrote. "A similar sentiment is true for restaurants integrating food and beverage products into their menus and offerings."
Jeremy Halpern, partner and director of business development at Nutter, McClennen & Fish and founder of Edible Ventures, was one of the panelists who credited the growth of startups to changes in consumer preference and the advancement of digital marketing.
"If you went to the average beverage rack about 10 years ago, there were 10 companies represented, and now there might be 70 companies represented on that same rack," Halpern said. "So there's a tremendous increase in consumer choices being permitted at the retail level, leading to the rising trend of entrepreneurship."
Following that trend is Lamar Letts, a 21-year-old resident of Brooklyn, New York, who started his beverage startup, Hylux, in 2014. He attended the night's panel to better understand the funding options available for his growing brand.
"I'm planning a Kickstarter in April and I've been getting some traction," Letts said, "So I feel that the information I've obtained today will really help me achieve those goals that I've set and create the best campaign that I can."
While nonprofit organizations like The Capital Network aid hundreds of entrepreneurs through their programs every year, there's always room for improvement as difficulties arise.
Bonnie Henry, founder and CEO of gluten-free manufacturing company GF Solutions, wrote in an email about the challenges facing entrepreneurs in the industry, such as regulation and obtaining initial capital.
"While some new food ventures are dealing with the use of technology to access the food supply chain, all food still needs to be grown, producing, processed, packaged and brought to table," Henry wrote. "Increasing regulation at all stages of this supply chain raises the capital costs and costs of scaling higher which in turn makes it more difficult financially for food entrepreneurs to launch and scale their businesses."
So how can entrepreneurs raise capital without waiting for a pot of gold at the end of a rainbow? For Henry, "bootstrapping" is one type of funding source that can help entrepreneurs learn and grow their business from those who have experience. Another method is crowdfunding, which Halpern notes is an interesting way to raise small amounts of cash but is more beneficial from a marketing perspective.
One common theme that all of the participants continue to stress, however, is education.
"The more conversations we have like this, the more likely innovative ventures will be able to find their footprint," said Jeni Wheeler, founder of the gluten-free brand Jeni's Joy. "There's so much more opportunity for obtaining information. Five years ago, none of this existed."