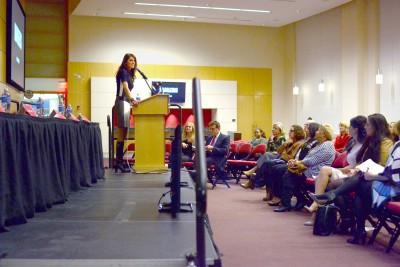 The Inaugural BU Women's Leadership Symposium on Tuesday night touched on an array of issues, from the role of women in professional settings to the way feminism has changed since the movement began more than 50 years ago.
The symposium, hosted by Boston University's College of Communication, moderated by COM Senior Lecturer Jodi Luber, featured keynote speaker and BU alumnus Nancy Armstrong, co-creator of "Makers," a documentary film series that highlights women "makers" who are paving new paths in entertainment, politics, business or other areas.
"Makers" started when Dyllan McGee, an Emmy Award-winning documentarian, wanted to create a film about feminist icon Gloria Steinem's life. Steinem told McGee that she would not be able to tell the movement's story solely through one person and encouraged her to expand the project to include more women.
Armstrong and her husband, AOL CEO Tim Armstrong, joined McGee and helped turn "Makers" into a website that now has more than 3,000 short interview videos and longer documentaries.
"These trailblazing women wouldn't be around to tell their stories, and when they passed, so would their untold, firsthand accounts of arguably one of the most transformative social revolutions in American history," Armstrong said in her presentation in the Francis D. Burke Club Room at Agganis Arena Tuesday night to approximately 60 people.
Throughout the night, Armstrong played a variety of "Makers" videos to give the audience background on the film series' mission. Some videos focused on a specific subject, such as Maria Bartiromo, a business journalist who was the first person to report live from the floor of the New York Stock Exchange on a daily basis. Others touched on broader topics, such as the current issue of subtle sexism.
"We want to create a storytelling revolution that inspires and ignites the next generation of women and girls," Armstrong said.
Melani Daniels, a first-year graduate student in the Metropolitan College, said she enjoyed Armstrong's presentation. Daniels said it is important for young girls like her 5-year-old daughter to have strong female role models.
"For any type of girl to hear that empowerment is really powerful," Daniels said. "It's necessary to [encourage them] to continue on the path that they want to do. Any path, whether they want to be a stay-at-home mom, want to be in a nonprofit, want to be a leader or not."
After Armstrong's presentation, a panel of five women — Armstrong, Linda Pizzuti Henry, Ida Lewis, Lynn O'Brien Hallstein and Garima Sharma — discussed the difficulties women face when entering professional environments.
One of the panel's main topics was motherhood and how parenthood is often still a very "gendered" function. O'Brien Hallstein, a professor in the College of General Studies, said it is important for women to talk about how and when they are going to start a family with their partners.
"If the conversations are left unsaid, it is absolutely clear that it is women's work," Hallstein, who has written four books on feminism and motherhood, said. "That work, even though many of us love many parts of it, makes it more difficult to maintain a career."
Daniels said that she appreciated the discussion of motherhood from a feminist perspective.
"Men don't have the choice of staying in their careers or not because they have children," she said. "They just have babies and continue on."
The panelists also talked about what men could do to hold each other accountable and make sure the feminist movement does not stop with just women advocating for one another.
"They genuinely want to do more than their own father did," Hallstein said. "But there's a gap between what they say that want and what they actually do."
Additionally, the panel weighed in on one of the biggest issues women in the workplace face today — the "pipeline" through which they must go through to move up in the ranks of companies. Women are getting hired at about the same rate as men are at entry-level jobs, but it proves more difficult for them to move up through the ranks.
"There's a problem where people hire people who look like them, who remind them of themselves," said Pizzuti Henry, managing director of The Boston Globe and co-founder of HUBweek. "That tends to leave out a lot of people."
Armstrong said she hopes that the Women's Leadership Symposium will continue for years to come.
"It's great that COM really walks the walk in terms of fostering the next generation of female leaders," she said.