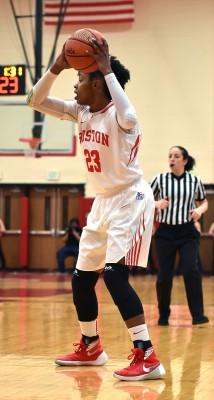 Playing in its final home contest of the year, the Boston University women's basketball team dropped a 79-44 decision Wednesday night to the United States Military Academy at Case Gym.

Slated against the Black Knights (26-2, 17-1 Patriot League) for the second time in three games, the Terriers (3-26, 3-15 Patriot League) struggled to assert themselves, ultimately falling to the conference's top team.
The first quarter was messy for both sides, as both teams had trouble maintaining possession. Both teams had seven turnovers and four steals each in the first 10 minutes, but Army scored 12 points off turnovers as compared to BU's eight.
Despite the chaotic nature of the first quarter, the Black Knights still went 7-for-13 from the field and held a 21-11 lead after the first quarter. The second quarter was almost a carbon copy of the first, as BU turned the ball over 10 times and Army sunk eight of its 12 shots.
The Terriers went into halftime down 45-21 but held Army's senior Kelsey Minato to just 12 points in the half, seven of which came from the free throw line. 
Following the game, BU head coach Katy Steding was not too pleased with how her team performed in its final regular season contest.
"I saw a team that was a little lethargic," Steding said. "Army's just a really good polished team, and if you slack a little bit, they take advantage of everything you do."

While Minato was limited in the first half, she turned it on when she came out of the locker room. She finished with a game-high 32 points and 2,477 career points — the most out of any Patriot League player of all time.
Minato and the rest of the Black Knights shot 50 percent from behind the arc, but the Terriers struggled mightily in that regard. They couldn't sink any of their eight 3-point shot attempts, and Steding said she believes it has to do with their shot selection.
"We've got to take better shots," she said. "We're better when we get the ball inside and look for good kick outs, but we didn't do that very well tonight … When we're patient enough to do that, we have some success. But we're still young and we're still figuring those things out. We should be farther along with that."
While the Terriers were outplayed in nearly every facet of the game, graduate student guard Troi Melton and sophomore guard Corrine Williams remained resilient and forced their way into the paint consistently.
They were the only BU players to score in double digits, as Melton led the team with 13 and Williams had 11. Melton also had six steals and was all over the floor, trying to disrupt Army at all costs.
Wednesday's game was also the final regular season game for Melton and senior guard Clodagh Scannell. Steding said that while they're both fierce competitors on the court, it's their off-court mentality that contributes most to the team.
"It's a little bittersweet," Steding said. "… They're special people, and it's not just their abilities on the court that make them special. Troi is a great kid. She just works so dang hard. And Clodagh has been a terrific friend and big sister to the rest of the team, and she's grown as a leader this season. I'm proud of both of them."
With the regular season out of the way, Steding is already looking to the playoff picture, where she says the team's pace is something they'll need to focus on going forward.
"[The key] is us being able to play at that tempo but still [having] the composure to execute our move or our play or the next pass," Steding said. "We have to learn that that tempo is something to play only when the other team is forcing us to play that way."