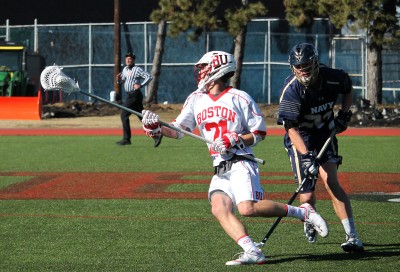 There are plenty of reasons to be high on the Boston University men's lacrosse team at the moment.
The third-year Terriers (4-1, 1-0 Patriot League) are ranked 20th in the nation after upsetting the United States Naval Academy last weekend, and freshman attack James Burr, junior goalkeeper Christian Carson-Banister and junior long stick midfielder Greg Wozniak all recently earned various weekly conference awards.
Despite all those feel-good elements, BU head coach Ryan Polley is emanating a simple message before his team's contest Saturday afternoon at Canisius College.
"We just want to be more consistent on a weekly basis, on a game-to-game basis and no matter who we're playing, just have that energy and excitement to share the ball and cut down on our mistakes," Polley said. "The message this week is to have a great week of practice and prepare for Canisius just like we would if they were Navy."
Set on snatching victory from the Golden Griffins (0-0), the Terriers have spent just as much time hitting the books this week as they have practicing. Polley and his coaching staff gave the team Wednesday off from practice to "let the guys study for midterms and catch up on their sleep."
Accordingly, the Terrier student-athletes went "hard" Thursday and will travel to Buffalo Friday, all in an effort to keep the good times rolling. Aiding that charge on attack will be Burr and sophomore Jack Wilson, as they've combined for 21 goals and seven assists.
The midfield contingent is led by freshman Brendan Homire, junior Cal Dearth and junior faceoff specialist Sam Talkow, while the defensive unit relies on the shutdown ability of junior Dominick Calisto, ground ball prowess of Wozniak and reassuring presence of Carson-Banister.
Strong in all areas of the field, the Terriers will still encounter challenges when Saturday's action gets underway. Canisius head coach Ryan Mearns just earned a gold medal with Team Canada and will lead the Golden Griffins into their first game of the 2016 season.
"They get a bunch of upstate New York kids, Canadians and kids from Ohio that are really tough players, and we expect it to be a dog fight on Saturday," Polley said. "We just have to be ready to go, expect them to have a ton of energy and we're really excited to play on the road. It'll be nice to play another game against a quality opponent."
Canisius is also coming off a 3-12 season and will be without the services of its starting goaltender and two leading point scorers from a year ago.
Nonetheless, the onus will be on BU to come out strong on the road and prove its ranking is merited. While playing away from home may complicate other team's approach, Polley doesn't expect a foreign location to alter Saturday's outcome.
After all, the Terriers look strong in their sole road contest of the season, earning a convincing 13-10 victory over High Point University Feb. 16. With that experience still fresh in BU's mind, the Terriers are confident of how they'll fare.
"The road tends to focus you a little more, there's less distractions, we're with the team, we're in a hotel, we're eating as a team and we're meeting as a team," Polley said. "It gives us the opportunity to focus on what we need to do, and the guys did a great job at High Point with that. The expectation is we'll do the same thing in Buffalo."
And how do the Terriers plan on accomplishing that?
"Just be prepared and work hard and be together and execute a game plan with poise," Polley said.