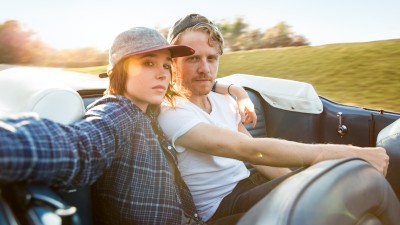 In 2016, making a show centered on LGBT people isn't exactly revolutionary. We've had dramas like "Queer as Folk" and "Orange Is the New Black," and reality shows like "Queer Eye" and "Girls Who Like Boys Who Like Boys." But none of those necessarily depict the actual reality of what it's like to be lesbian, gay, bisexual or trans. Moreover, none of them venture beyond an American contextual point of view.
Both of these shortcomings are addressed by "Gaycation," a show launched Wednesday on Vice's new basic cable channel, Viceland. Vice is the mischievous punk of the online media world — purveyors of all things provocative, counter-cultural and hip — that also manages to make frequently insightful content. Vice brought this spirit to its latest cable television endeavor.
"Gaycation" is part travel, part sociocultural documentary, and it blends the two elements in a manner similar to that of "Anthony Bourdain: Parts Unknown."
The show follows actress Ellen Page and her best friend Ian Daniel, both gay themselves, as they travel to different countries and explore LGBT culture around the world. In Wednesday's premiere, the duo journeys to Japan. The episode was informative and mostly entertaining, albeit occasionally lackluster and problematic.
Page and Daniel first explore the flashy, lighthearted side of LGBT culture in Tokyo. They go barhopping in Tokyo's gay center, the Ni-chōme area of Shinjuku, where the pair talks with a bar owner who has Fleshlight-esque sex toys modeled on his mouth and is a patron at a secret, trans-friendly club where straight men come to cross-dress.
They investigate yaoi manga, homoerotic male comics, read primarily by straight women whom fans called "Rotten Women." In a fairly uncomfortable scene, Page and Daniel join two Rotten Women for their regular practice of listening to graphic yaoi audiobooks at karaoke bars.
Page commendably challenges the questionable activities of the Rotten Women, saying that it feels like they're "objectifying gay sex rather than understanding the reality of being gay." She does most of the talking throughout the episode, particularly during transitional scenes in cabs, when she tries to make sense of how the Japanese grapple with their LGBT-identifying members.
Although he had some compelling moments, Daniel seems largely dispensable.
"So far it seems to me that Japan interprets homosexuality as a cluster of fetishes and naughty hobbies," Page said in a voiceover. "But what is it like to live as an openly gay person in Japan?"
"Gaycation" then transitions into an investigation of the darker, more everyday lives of LGBT people in Japan. In one of the episode's most emotional moments, Page and Daniel accompany a "rental man" whom a gay man has paid to act as his friend while he comes out to his mother. While this moment feels a little bit too much like the dramatic, highly orchestrated reveal of a "Maury" episode, the poignancy is undeniable.
"I'm glad he has good friends," his mother says, not knowing that they are being paid to be there. And if it didn't before, it hits you right in the gut. This gay man didn't have any friends he could turn to for support during this incredibly trying experience.
The show's exploration of not just the flashy and fun side, but also the stark, often painful reality for many people results in an admirably balanced portrayal of LGBT life in Japan. Page and Daniel cover a lot of ground in the show's 44 minutes. They even trek to Kyoto, where they participate in a Buddhist wedding ceremony, albeit a symbolic one because only a few wards legally recognize same-sex civil unions.
But this is one of the weakest parts of the show. While it's interesting to hear the open-minded views of the priest who performs the ceremony, the scene focuses almost solely on Page and Daniel, whose personalities are not strong enough to hold attention. The lengthy vows they share are supposed to make for a touching moment, but we don't know enough about them to really care.
Despite the show's mission statement that Page and Daniel will "explore LGBT cultures," bisexuality is completely missing from the premiere. It's not surprising, considering bisexual people are often overlooked in examinations of non-normative sexuality. It's hard to blame Vice when surely, much of that stems from the common invisibility of bisexuality, but it's worth noting.
That being said, "Gaycation" avoids exoticizing Japan's LGBT community or portraying Japan as backward. Its LGBT residents aren't portrayed as victims in need of saving, and the show succeeds by illustrating both the progressive and oppressive, playful and serious elements of its LGBT culture, something past Vice travel shows have not always achieved. Thanks to its unique documentary form, "Gaycation" probably comes closer to depicting the realities of gay life in particular than any TV show before it.
With the repeal of "don't ask, don't tell" in 2011 and the legalization of same-sex marriage in the United States last summer, it's too easy to be lured into the mindset that LGBT issues are no longer a concern. "Gaycation" reminds us that no matter where you go, LGBT culture and issues are always more complicated than that. And that's exactly why they make for such great TV.