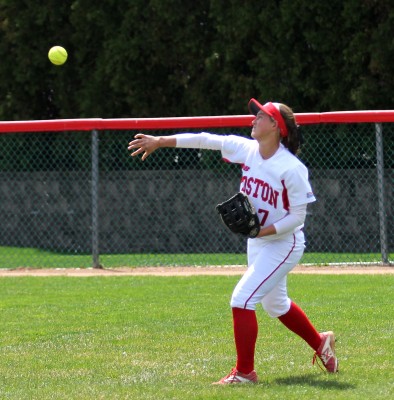 After beginning its season with two East Coast Tournaments, the Boston University softball team will head out to California to partake in the San Diego Classic.
BU's (3-6) roster is laden with players who call California home, making the five games from Friday morning to Sunday evening a homecoming of sorts for veterans and newcomers alike.
The Terriers will face four teams from outside the East Coast — Grand Canyon University, Texas A&M University, Utah Valley University and San Diego University — before ending their weekend against a nearby Saint Joseph's University team.
The weekend is certainly front-loaded, with the two toughest tests coming against Grand Canyon (14-5) and the No. 11 Aggies (17-1) on Friday. Despite that, BU head coach Ashley Waters said her team's approach will not change, as the Terriers will look to earn several statement wins.
"The way I view it [is] they put on their jerseys the same exact way," Waters said. "So if we take the jerseys off them, they are just a bunch of kids playing softball."
Texas A&M has not lost since Feb. 13 and is a perennial national title contender. Its stacked lineup is highlighted by Tori Vidales, who averages .413 at the plate with a .826 slugging percentage and an on base percentage of .541.
Similarly, when BU faces the Antelopes, it'll encounter a red-hot team. The Antelopes have won five of their last seven games and have a talented offensive group. Seven players have batted in 11 runs or more, and five players are batting at a .400 clip or higher.
BU's schedule gets somewhat easier thereafter, as they'll face the Wolverines (4-12) Saturday and a doubleheader commences Sunday against the Toreros (7-8) and the Seawolves (4-6).
Despite a five-game stretch in three days on the other side of the country, BU has a small home field advantage thanks to 13 roster players being from California. Specifically, the Terriers hope to rely upon the senior pitching duo of Lauren Hynes and Melanie Russell.
"It's great to have our senior pitchers throw in San Diego and have their family and friends around," Waters said.
Another player who will be close to home is sophomore right fielder Emma Wong, who has six hits on the year.
"For the remainder of the team, there is such a huge chunk from California," Waters said. "I think they are really excited just to get back here."
Sophomore pitcher Sydni Overly will also be familiar with her surroundings but is recovering from last year's season-ending surgery and could be limited. Despite that, Waters is optimistic about Overly's rehab outlook through their daily conversations and Overly's depth on the mound.
"We are definitely using this preseason to get her on the field and on the circle," Waters said. "But we'll see what she can do this week, and hopefully she has the chance to throw a little bit more."
Not all of the Terrier talent comes from the Golden State, however, as the team will lean heavily upon its junior captain duo of Brittany Younan and Moriah Connolly. They're nearly batting at a combined .360 clip and have a combined 22 hits on the year. There also is the bat of freshman catcher Alex Heinen to consider, as she has six RBIs and BU's second-best batting average.
It remains to be seen how the San Diego Classic will unfold, but Waters pointed out that BU is in a fortunate locale before conference play kicks off at the end of March. She said there could not be a better way to spend a week away from classes.
"The weather is going to be good to play some good softball," Waters said, "so it's the ideal spring break for softball players."