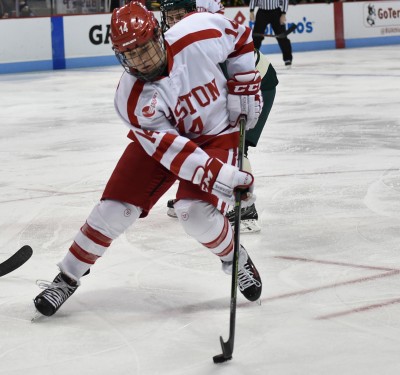 The No. 9 Boston University men's hockey team needed just one more goal to secure a first-round bye Saturday. It trailed the No. 10 University of Notre Dame 1-0 in South Bend, and a tie or win would have locked up fourth place in Hockey East for the Terriers.
No. 11 University of Massachusetts Lowell earned a win that same night, creating a tie for fourth place. But the River Hawks (21-8-5, 12-6-4 Hockey East) owned the tiebreaker and BU (19-10-5, 12-6-4 Hockey East) couldn't get another goal, slipping into fifth place and becoming required to play in the first round.
Its ensuing first-round series will come against the cellar-dwelling University of Massachusetts Amherst, with a best-of-three series commencing Friday night at Agganis Arena.
BU head coach David Quinn said after Saturday's loss that the team would take some time to "lick [its] wounds" but would be ready to focus in practice. Quinn also noted Thursday that the team had concentrated on the task at hand throughout the week.
"Guys seem excited, ready to go," Quinn said. "I think the realization of the fact that we're playing and we're excited to play, and the fact that we have the opportunity to win hockey games — if we win hockey games, we're going to improve our situation in the PairWise."
Last-place UMass (8-22-4, 2-16-4 Hockey East) hasn't had much luck against the Terriers in recent years, with BU outscoring the Minutemen by a margin of 30-11 over the past two seasons, including 7-2 and 6-3 losses to the Terriers in 2015-16.
The Minutemen, with 2.32 goals scored per game, rank 10th of the conference's 12 teams in offense and sit dead last in terms of defense, allowing 4.09 goals per game. The team has only won two games since the beginning of the year — ones over U.S. Military Academy and American International College, both of which were out-of-conference, overtime victories.
Just four players on UMass have scored more than 20 points this season, led by forwards Shane Walsh (17 goals, 11 assists) and Ray Pigozzi (eight goals, 20 assists).
The team's goaltending remains a question mark, as three netminders have split time, with freshman Nic Renyard playing the most minutes (24 games played). However, Renyard, with a 3.68 GAA and .895 save percentage on the season, has played just one game in the team's past four, entering the game in relief for starter Alex Wakaluk in a 6-0 loss to No. 4 Providence College Saturday. Wakaluk has started the team's past four games, allows 4.51 goals a game and has an .862 save percentage.
Quinn said UMass's record did not necessarily speak to the quality of its players, and the team should not be taken lightly as an opponent.
"They're a team that … played very well Friday night against Providence," Quinn said in reference to UMass's 4-1 loss on Feb. 26. "They had some great chances, their power play's dangerous, they had some great chances against Providence on their power play. They've got some skilled forwards. They can really hurt you if you don't take away time and space on them."
As for BU's lineup, Quinn said he is "toying with" making some adjustments at forward for the upcoming series. Freshman forward Bobo Carpenter, who has spent most of his time this season as the third-line center, would jump up to the second-line center position. Carpenter has tallied nine goals and four assists this year.
In this scenario, senior assistant captain Matt Lane would shift from center to wing on the second line, while freshman forward Ryan Cloonan would go from to the second line to the third line. Junior forward Robbie Baillargeon would return to the third-line center position after spending much of the season as a winger, Quinn said.
The winner of the series will advance to a quarterfinal matchup. Should BU emerge victorious, it will travel to Lowell for a best-of-three slate beginning March 11. Quinn noted that BU's players are looking at this weekend as just the beginning of a long playoff run.
"They're hockey players," Quinn said. "You get to play more hockey. That's how we're looking at it … I'm excited to play. I know they're excited to play. "
But is the extra set of games this weekend beneficial to the team?
"I'll let you know Sunday," Quinn said with a laugh. "Time will tell."