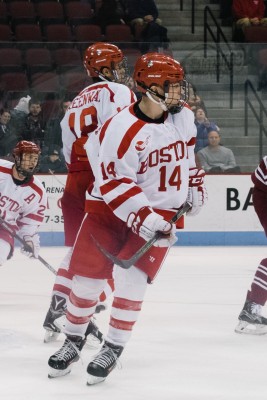 It took overtime and a season-high 96 shot attempts for the No. 9 Boston University men's hockey team's first-round Hockey East Tournament victory over the University of Massachusetts Amherst to be decided.
But for the Terriers (20-10-5), it came down to the final two.
Sophomore defenseman Brandon Fortunato fired a shot from just above the left circle, which goaltender Nic Renyard turned aside — his 46th save on the evening. The puck, however, then skimmed off senior wing Ahti Oksanen at the netfront and fell to the stick of freshman center Bobo Carpenter, who jammed it home to score BU's  second goal of the night and the one that effectively ended the game 9:34 into OT.
But Carpenter had also already left his mark on the scoreboard just shy of 46 minutes earlier when he netted the Terriers' first goal, a 1-1 equalizing tally, 3:52 into the second period in similar fashion, at least by way of staking out the front of the net.
In addition, he did all that as a brand new member of BU's top-six.
Prior to the game, Carpenter was bumped up to center BU's second line, shifting senior assistant captain Matt Lane to right wing while Oksanen maintained his spot on the left. The change proved to work, at least in Friday's victory, as the trio combined for five points and 15 of the Terriers' 48 shots on goal.
BU head coach David Quinn said the decision to elevate Carpenter was reflective of the way he's played in the second half, in which the forward has had nine points in the last 17 games. He's also now been responsible for the game-winning score in two of the past four games.
"I think he's one of our top-six forwards, and I'm a big believer in putting your best players together and he's one of our best players and I thought that line did a lot of good things," he said.
"I liked it," Carpenter said of his new linemates. "Definitely, got a lot going, got a lot of chances, fun moving the puck, making different plays. Their skill is just unbelievable to play with. And hopefully we can keep it going into tomorrow."
Oksanen, who recorded assists on both of Carpenter's goals, had similar feelings regarding the freshman's promotion.
"It's great," he said. "He's obviously a really good player, so it wasn't hard for me and Lane to get used to playing him. And obviously two goals, game-winner in overtime, he had a really great night, and we really enjoyed playing with him."
Part of what makes Carpenter so effective, Quinn said, is his "great release" in the sense that he's a master at transitioning inconvenient situations with the puck into genuine scoring chances.
"Every player has a comfort zone for their release, and it's very easy to score a goal when you're all comfortable," he said. "The real goal-scorers make uncomfortable positions comfortable, and that's what he does. He can get a puck on his backhand in an awkward position and roof it, it doesn't have to be on a tee for him to get it off with accuracy, and with some heat."
All of that factored into Carpenter's two goals, according to Quinn, who added they were the "result of him going to the net and being hard on the puck and getting rid of it quickly."
Carpenter's pair of strikes pushed him over the double-digit threshold for goals with 11, making him the fourth Terrier, though the only underclassman, on the roster to do so after Oksanen (15), Lane (14) and senior assistant captain Danny O'Regan (14).
"It's been a great year," the centerman said. "I've had a lot of fun learning, taking everything in. I just want to learn as much as I can for the upcoming years, and I'm just excited for the rest of it."