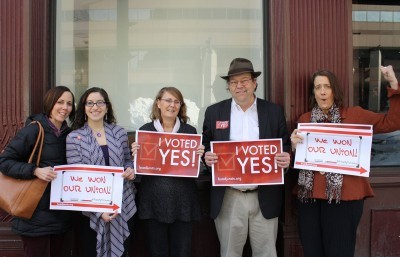 Full-time and salaried lecturers and instructors at Boston University filed a petition Friday to join Faculty Forward, a sector of the Service Employee International Union Local 509.
The petition, filed to the National Labor Relations Board, will allow the NLRB to process and assess paperwork for eligible BU faculty, hold an election and establish union representation, said Somy Kim, a lecturer in the College of Arts and Sciences.
Kim said she hopes to have an election at the end of March. The election will join approximately 275 salaried lecturers and instructors with the 800 adjunct professors at BU who successfully unionized in the spring of 2015, The Daily Free Press reported Feb. 15. 2015
"There was such an overwhelming majority of faculty that we spoke with who said, 'Yes, we do want union representation. Hold the election, and we will vote yes,'" Kim said. "That is a really good indicator that the election will be favorable towards those of us who want a union."
Addressing a "small percentage" of BU faculty's desire to unionize, BU spokesperson Colin Riley said the university is aware of the petition and will present its position before the NLRB at a hearing March 14.
"Boston University believes our academic community is best served by maintaining direct lines of communication with our faculty rather than through an outside entity," Riley said. "This is instructors and lecturers, not professors and associate professors."
A democratic process between faculty, administration and academic freedom is crucial to producing high-quality education, said Kim, who specializes in Middle Eastern cinema in the CAS Writing Program. Having a union to represent the body of lecturers and instructors will better assist educators achieve the objective, Kim added.
"We want to have a say … where we have something to bring to the table and that our voice is also a part of making the decisions," Kim said. "There's a lot of controversial topics we speak of [during class], what we deal [with] in the classroom. I want to be able to be protected to be able to talk about controversial and critical topics … without there being a backlash."
SEIU Local 509 spokesperson Jason Stephany explained that at least one-third of the affected faculty must sign union authorization cards to request a petition with the NLRB. However, "an impressive majority" of full-time and salaried lecturers and instructors at BU have support for union election, Stephany wrote in an email.
"Following their union election, faculty will meet to determine priorities for their first union contract," Stephany noted. "Contract agreements have traditionally lasted three years, though final details will be determined through the collective bargaining process."
This latest development to BU faculty unionization comes at a time when BU adjunct professors are still in the process of reaching a fair contract with the university administration one year after unionizing, The Daily Free Press reported Feb. 26.
Though faculty unionization is a growing national trend, Kim said the BU adjunct faculty's unionizing is inspiring and that she is hopeful the administration will "honor" the faculty members' requests.
"I'm hoping that considering the climate of higher education right now, Boston University administrators [recognize] that what we're asking for is really reasonable and it's not anything outlandish," Kim said. "Faculty voices will only make Boston University stronger, better, higher-quality. And all of that leads to students and [their] education being stronger and better."
Ellen Cranley contributed to the reporting of this article.