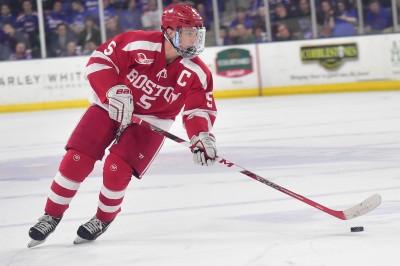 LOWELL — If there's going to be a Game 3, the No. 8 Boston University men's hockey team is "going to have to be very resilient" on Saturday night at the Tsongas Center, said head coach David Quinn, "that's for sure."
While there were things to like about the Terriers' (21-11-5) 3-2 loss to the No. 11 University of Massachusetts Lowell on Friday night for Game 1 of the Hockey East Quarterfinals, Quinn said there are things to clean up before Game 2.
The biggest thing for BU is special teams, as the penalty kill came off clean in just two of the River Hawks' (22-8-5) four opportunities on the night, and the power play failed to convert on both of its chances.
The other problem relates more to doing things to generate offense, whether it be getting to the net more consistently or attacking with speed instead of slowing down in the offensive zone to try and make plays.
In addition, BU came out "sluggish" to start the game, according to senior captain Matt Grzelcyk, and  Quinn noted that the team wasn't "physical or alert enough." But after those first six or seven minutes?
"All of a sudden we became both," Quinn said.
However, despite there being a 10-plus-minute span where Lowell was held shotless, the Terriers could not capitalize, heading off the ice after 20 minutes with an 11-5 shot advantage but none in terms of goals.
They were able to use that drive, at least, to score the game-opening marker with 6:22 gone in the second. Freshman center Jakob Forsbacka Karlsson received a pass from senior assistant captain Danny O'Regan and beat goaltender Kevin Boyle down low for his third goal in two games.
The lead didn't last long, though, as the River Hawks cashed in on the power play just under three minutes later to tie things up at 1-1. Centerman Joe Gambardella stickhandled in around senior netminder Sean Maguire and flicked the puck in by the right post with 8:58 expired.
And it took until the third period, but UML struck again when winger Michael Louria walked into BU's zone alone and placed his shot in the bottom half of the net on Maguire's blocker side for the River Hawks' first lead of the game at 11:35 of the final frame.
They pushed their advantage to two goals four minutes later on a power-play tally that had sophomore C.J. Smith go post-to-post to find assistant captain Adam Chapie at the backdoor for a quick bury.
BU responded just 23 seconds later to make it a one-goal game at the 15:45 mark by way of a Grzelcyk blast from the left point. His D-partner, Charlie McAvoy, slipped the puck across the zone to him, and the captain waited it out for his shot.
"I know they'd been kind of rushing on us, so I just tried to hold on a second, let the guy slide by, and there was a lot of traffic in front," Grzelcyk said. "I was just trying to get it by and got a lucky bounce."
The Terriers applied pressure in the final two minutes of the third with Maguire pulled, but failed to score, giving Lowell a 1-0 series lead heading into Game 2 on Saturday.
"I mean obviously we kind of want to control our own destiny and at least force it to a game three and see what happens from there," Grzelcyk said. "Not really much to say in order to be motivated, just take the positives from tonight and just play with a little more urgency."