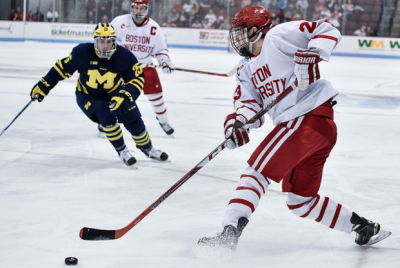 The No. 8 Boston University men's hockey team will travel to No. 11 University of Massachusetts Lowell for the Hockey East quarterfinals, with a best-of-three series beginning Friday at the Tsongas Center.
BU (21-10-5) enters the series after sweeping the University of Massachusetts Amherst in the first round of the conference playoffs in a 2-1 overtime win on March 4 and a 5-4 regulation win March 5. Lowell (21-8-5), meanwhile, will play its first game in two weeks, as it earned a first-round bye by virtue of finishing in fourth place in Hockey East.
That bye week might not be an advantage for the River Hawks, though, depending on whom one asks.
"We'll see," said BU head coach David Quinn with a laugh after a team practice Thursday. "Last year, we had a bye and we played very well. I know some coaches don't like it. I think if you play and win two games and come out healthy, then it's a good thing to play. That's what happened. We played two games, won both of them and we're healthy … I'd rather keep playing, but some people may want the rest."
Senior assistant captain Danny O'Regan agreed with his coach but offered up a somewhat different perspective about BU playing a first-round game.
"You can definitely look at it [as an advantage]," O'Regan said. "We're pretty healthy as it is. Not too many guys needed that rest. It's good to stay in the flow of things, keep the schedule the same and you can take a lot of positives out of playing a couple games."
The River Hawks, with their second-best defense in the nation allowing just 1.85 goals per game, will test the Terriers and their third-best offense in Hockey East (3.33 goals scored per game). BU split its regular-season series with the River Hawks, first with a 2-1 overtime victory on Feb. 12 and then with a lopsided 6-3 loss in Lowell the next night.
In BU's last game at the Tsongas Center, Lowell jumped out to a 5-1 lead midway through the second period and was propelled by a hat trick from defenseman Dylan Zink.
"That was just one of those games where we weren't getting bounces," O'Regan said. "We definitely didn't come to play and weren't on our A game. But we know that if we play them hard and the way we can, then we can have success again, because we beat them the night before. We know what we can do if we play to our ability."
This time, in addition to Zink, BU will have to stop two of the team's leading scorers in forward C.J. Smith (33 points) and senior A.J. White (22 points). White has scored at least one point in five of his past six games.
But the Terriers have their own slate of recent top performers against UMass (8-24-4), including O'Regan, who had two goals and two assists in Saturday's victory. Freshman defenseman Charlie McAvoy added four assists Saturday and was a plus-five during the weekend, for which he was subsequently named Rookie of the Week by Hockey East.
Freshman center Bobo Carpenter, in his first game at the second-line center position, scored both of BU's goals in Friday's win. Freshman center Jakob Forsbacka Karlsson also broke a 12-game goalless slump with two tallies, including the game-winner, on Saturday.
Quinn noted that his team will need to feel a greater sense of desperation than it did against the Minutemen, who played BU very closely. He also said his team has a better mindset than it did last weekend.
"It's getting down to crunch time here, and the guys have an urgency that they probably didn't have last weekend," he said.
O'Regan shared Quinn's sentiments, noting that playoff hockey brings the best out of everyone.
"A lot of [the sense of urgency] comes from the coaches just telling us to have that mentality," O'Regan said. "It's playoff hockey, so that lifts everyone up a bit. Just kind of that 'lose-or-go-home' mentality definitely has been creeping in with us, so everyone's been picking it up a bit."