LOWELL — David Quinn, head coach of the No. 8 Boston University men's hockey team, focused on one key area during his postgame press conference after his team fell to the No. 11 University of Massachusetts Lowell, 3-2, in the first game of the Hockey East Quarterfinals.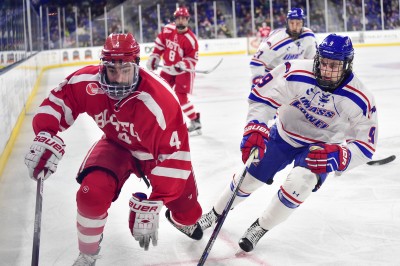 "As is usually the case in playoff games, special teams is a huge factor in who wins and who loses," he said to commence his opening comments.
He reiterated it multiple times throughout the press conference.
"If you're going to have a successful power play, you've got to be alert, you've got to be ready to do a few things," Quinn said. "…We just blew our responsibility."
And again:
"The penalty kill just was the story of the game."
When your team gives up two of its three goals — including the game-winner — while on the penalty kill, it's not much of a surprise that BU (21-11-5) had some frustration after the loss. That's not to mention two chances on the power play, and cashing in on neither.
"We go 0-for-2 on the power play, I think they went 2-for-4," Quinn said. "…It's going to have to get better tomorrow night if we're going to have a chance to extend this series."
BU entered the game ranked 32nd in the nation on the penalty kill, at just an 82.2 percentage. Its power play, while ranked 10th in the nation at 21.9 percent, has achieved very little in recent games. In five games, it has gone just 2-for-11 on the man advantage, with a total of 17 shots — an average of 1.55 shots per power-play attempt — in that span.
Its five shots on the power play on Friday were the highest total in five games, but those came to no fruition for BU against the River Hawks (21-8-5).
"We had more struggles, just we know that we broke it out well but kind of when we got off to the offensive blue line, we didn't have very many outlets to go to," said senior captain Matt Grzelcyk, who plays on BU's top power-play unit. "I think if you just kind of play hockey instead of skating to our spots, then I think we'll start to build off that."
Meanwhile, on the penalty kill, BU let up two goals — the first a shot at the left post by Lowell center Joe Gambardella, and the second an open chance for forward Adam Chapie.
"Sometimes shots can be deceiving, but we held a team to 19 shots and we get 35, you might think you've got a better chance to win," Quinn said. "But again, it comes back to special teams. And you can't go 2-for-4 on the penalty kill.
"At the end of the day, that was the difference," he added, "and our penalty kill let us down."