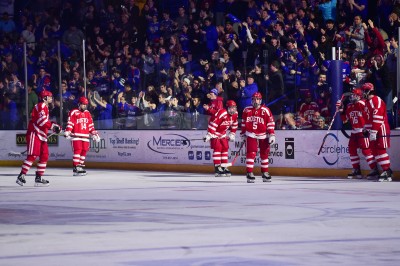 LOWELL — When asked what he thought went wrong for the No. 8 Boston University men's hockey team after its loss to the No. 11 University of Massachusetts Lowell on Saturday night, senior assistant captain Danny O'Regan struggled to pick out specifics.
"I don't know we, I don't know, we just, I don't know," he said. "Nothing really went right for us today."
The Terriers (21-12-5) were shut out by the River Hawks (23-8-5) at the Tsongas Center and allowed them to put up five goals all the while, resulting in a lopsided loss that bounced BU from the Hockey East Tournament.
And like O'Regan said, it didn't seem like a whole lot was going in BU's way throughout the game. He said the team could have played better, gotten better bounces and noted that "some major mistakes" the Terriers made cost them goals.
Not being able to get on the scoreboard also proved problematic.
UML was on the board twice 26:26 into the game, prompting BU head coach David Quinn to pull senior netminder Sean Maguire — "a gut feeling," he said — in favor of sophomore Connor LaCouvee, who hadn't seen the ice for a game since Feb. 20 against the University of New Hampshire.
Four-and-a-half minutes after the goalie swap, the River Hawks scored again, though the tally being left on the scoreboard was fairly controversial due to a potential offside. However, the officials reviewed it and deemed the goal good.
"It's hard to pinpoint one thing," said senior assistant captain Matt Lane. "I thought we came out with the right attitude, the right mindset, we definitely had a lot of energy … They got some bounces, we didn't. Their goalie was hot, he was good last night [Friday], just a couple little things in all areas."
Lowell goaltender Kevin Boyle was a big part of BU's struggles both nights, as Lane pointed out. The senior finished two games with 57 saves on 59 shots, good for a .966 save percentage.
He does a good job playing aggressive and challenging shooters, said senior assistant captain Matt Lane, and also held onto shots that the Terriers could have pounced on for second chance opportunities had a rebound popped out. It also doesn't help that the River Hawks play a style of defense that encourages their players to get sticks and bodies in front of shots, blocking as many tries as BU actually got to Boyle.
"They've always been good at that since I've been here," Lane said. "They block a ton of shots, it's really hard to get stuff through, you've really got to use the side of the net, you gotta work around the back of the net. … They do a good job defensively and unfortunately we weren't able to figure them out two games this weekend."
O'Regan said some of it is that defensive style, but some of the responsibility also falls on the Terriers "not executing or just really getting to the net and knocking guys down in front and making it tough to play against."
"It's tough to create offense on them, but I think we didn't do the things that we've been doing in the past that made us successful offensively, so a lot of it's on us," O'Regan said. "We didn't get a lot of grade-A chances or get to the net enough and make it hard for the goalie so I mean that's kind of on us, I guess."
Collectively, he said, the Terriers couldn't get it done. The blame can't really be placed on one player or one position, O'Regan continued, and pointed out that BU "couldn't even really hang around the game."
But still, he said he doesn't think the team "should lose to them by five goals by any means."
"I think we're as good a team as them, but I don't really know what happened," O'Regan said. "It was a weird game and I don't know, I think they outplayed us. I guess they deserved to win."