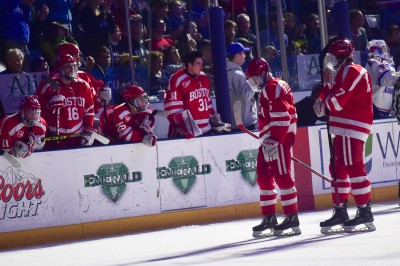 LOWELL — As the third period wound down of Game 2 of its quarterfinal series with No. 11 University of Massachusetts Lowell, it was clear the No. 8 Boston University men's hockey team would not advance to the next round of the Hockey East Tournament.
The River Hawks seemingly did everything right, while BU accomplished little in 60 minutes of a 5-0 loss at the Tsongas Center. And for that, unlike last season, the Terriers (21-12-5) will sit at home next weekend and not make a trip to TD Garden.
To BU head coach David Quinn, the reason was simple as to why the best-of-three series quickly turned into a two-game sweep.
"They're a better hockey team than we are right now," Quinn said. "Their goals came way too easy, we obviously couldn't get one. That was the story of the night. … They defend well, they've got a great goalie. They're mature. They're deep.
"They may not have stars other than their goalie, but a lot of good players. And they keep it very simple."
Now 0-for-2 in trophy season after Saturday's loss and the Beanpot Championship defeat in February, senior assistant captain Danny O'Regan said it wasn't one particular play or player that led to the loss, but a whole host of factors that came together in what was BU's third shutout loss since Feb. 8.
"…You don't want to blame one guy or the defense or the offense or the goalies, it was kind of just collectively we couldn't get it done," O'Regan said, "we couldn't even really hang around the game before they kind of put it out of reach."
The River Hawks stepped on the gas pedal early and often, scoring the game's opening goal 3:07 into the opening period. Forward Jake Kamrass took the puck in just a little past the offensive blue line and flicked a low shot on net, which eluded senior goalie Sean Maguire.  
Even as BU kept Lowell in check for the remainder of the first, the Terriers could only slow the River Hawks so much before they took over the game in the second period.
Forward Joe Gambardella, who had a goal in Game 1, got on the board again at 6:26 into the middle frame. He took the puck from behind BU's net, came to the middle and wristed a shot through Maguire's five-hole. More than that, though, it spelled end of Maguire's night, who allowed two goals on 15 shots.
For Maguire, who has been steady for in the crease for most of the second half of the season, it was the second time in the last month that he faced an early exit at Tsongas. Quinn called the early yanking a "gut feeling," but the decision would pay no sort of dividends, as Lowell found the twine quickly against Maguire's replacement, sophomore Connor LaCouvee. 
A little more than four minutes after Gambardella's goal, forward C.J. Smith extended Lowell's lead, as he slipped a slow shot underneath LaCouvee's pads and just over the goal line. Questions of a potential offside call came into play, but after a short video review, the goal was upheld. 
While Quinn said after the game that he believed the goal should not have counted, he did say that the score kept the momentum on Lowell's side.
It wasn't the backbreaker, but it all but set up what would be a not-so-pretty third period, where Smith notched his second score of the game at 5:38 of the period and forward John Edwardh closed out the scoring about three minutes later. 
The puck hardly ever left BU's own zone, and when it did and ended up on net, goaltender Kevin Boyle was there to make all the stops, finishing with his seventh shutout of 2015-16, a new single-season school record. A night after putting 35 shots on goal, no Terrier recorded more than the four shots freshman wing Ryan Cloonan had.
BU will have next weekend off and have to wait at least a week before it knows its fate — or seeding — when it comes to the NCAA Tournament. Between now and then, Quinn said, things must change.
"We're a young team, sometimes immaturity, kids get impatient, they want to try something different even though you do it the right way, it works," Quinn said. And they're going to try something different.
"And we've got to become a more mature hockey team before our next game."