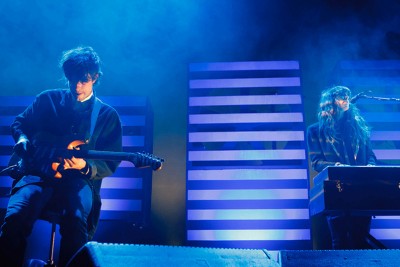 "If you're in a spot that's too brightly lit, you can walk to the darkness," Beach House singer and keyboardist Victoria Legrand said during the duo's concert Friday night at the House of Blues. "The darkness is always right there."
Beach House's music exists in an ambivalent place between light and dark, where joy and melancholy commingle. Like a lovely beach house in a dream you will never have again, Beach House is sad and sweet at the same time.
The dreamiest of dream pop bands — consisting of Legrand and guitarist Alex Scally and accompanied by touring musicians — gave the audience a glimpse into its mystical world. The duo is touring in support of its albums "Depression Cherry" and "Thank Your Lucky Stars," both released last year.
Beach House warmed up the crowd with more upbeat cuts from past albums like "Walk in the Park," which had someone pumping their crutch in the air, and "Other People." But the Baltimore-based band toned things down with "PPP," a hypnotic lullaby off of "Depression Cherry."
Legrand entranced the crowd with her powerful and mesmerizing voice, arguably Beach House's most compelling feature. The ever-present reverb effect on her vocals intensified their haunting quality and exaggerated her every breath as she described, in a rare, lyrically straightforward Beach House song, a relationship turning into a tenuous marriage with typically vivid imagery and clever comparative language such as, "It happened so fast / The timing was perfect / Water on glass."
Meanwhile, Scally's rippling guitar line evoked the feeling of a blissful twilight magic carpet ride over a serene forest. Both softly headbanged to the beat, Legrand's curly mane of hair obscuring her face as she leaned over her keyboard.
The magic was amplified by the illumination of twinkly lights in the stage backdrop, in front of which were three rectangular frames covered in gauzy, reflective curtains. During "PPP," green and purple lights shone onto the material, bringing to mind the aurora borealis. The gorgeous nighttime sky effect produced by the combination elicited a cheer from the crowd. While the nature of Beach House's music often doesn't allow for more than a chill head bob or sway, the audience continuously conveyed its enthusiasm with hooting and hollering for even minor happenings.
"In the words of one of my favorite movies ever, 'Alright, alright,'" Legrand joked two songs later. "What movie is that?" she asked the crowd. It shouted back the right answer: "Dazed and Confused."
"I love that f—ing movie. Sorry, this is what I sound like when I talk," Legrand said, apologizing because the crowd that might have been surprised by her boisterous attitude, which is totally absent from Beach House's serene material.
Legrand was a delightfully animated speaker, but her vocals took center stage. They shone the brightest on the "Teen Dream" track "Silver Soul."
"It's a vision, complete illusion, yeah," Legrand sang, grabbing at her hair as her voice skyrocketed to angelic heights on the last word while Scally wove a pattern of sleepy guitar notes.
"So we made two records last year and, uh, thanks," Legrand said later on. "It's not easy, but it happened like all good things. If it was easy, it wouldn't be worth it, right? It's really got to torture you to be worth it."
And then they played a song from most recent album, "Thank Your Lucky Stars," called "Somewhere Tonight." The disco ball above the crowd started spinning flecks of light around the room, and the constellations reappeared. Nostalgic slide guitar, organ-like synth, slow, dance-worthy drums and Legrand's sighing vocals emanated from the stage in a combination reminiscent of a '60s girl group ballad or Santo & Johnny's classic '50s lullaby "Sleep Walk." The crowd swayed gently. It was a bewitching prom dance moment that dreams are made of.
"Thank you so much for your energy," Legrand said, signaling the show's end. "Energy makes the world go forward. And it's not fake energy — it's real energy, energy that we created as humans. Let's make the world a wonderful place to live."
Following her somewhat out-of-place but touching kicker, the band launched into droney shoegaze jam "Sparks."
"And it goes dark again / Just like a spark," Legrand sang breathily, bending her head backward incredibly far and then jolting forward, curls flying. Her wail-like synth refrains and Scally's ripping fuzz-guitar cut through the blurry background layers of distorted, wordless vocals and repetitive synth. In the end, everything dropped away but the muddled vocal loop and bittersweet synth, creating a fitting mood to close the show.
Beach House doesn't have the power to make the whole world a more wonderful place to live, no matter how beautiful their music is. But for an hour and 15 minutes, everyone gathered was transported to another one overflowing with wonder.