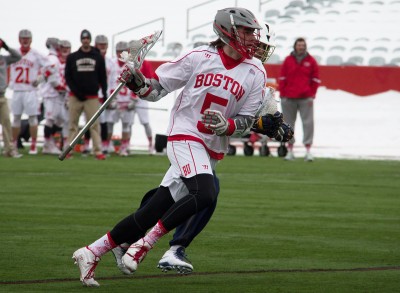 The No. 18 Boston University men's lacrosse team showed why it should be taken seriously once again, earning a 11-6 win versus Colgate University Saturday on Nickerson Field.
The win was the Terriers' third straight (6-1, 2-0 Patriot League), as they put together a comprehensive performance against the Raiders (3-3, 1-2 Patriot League). Seven different Terriers scored, with junior midfielder Cal Dearth leading the way, earning five points in his best game this season.
Junior faceoff specialist Sam Talkow won 18 of his 21 draws, and junior goalkeeper Christian Carson-Banister made 11 saves for BU. Junior defender Dominick Calisto shut down Colgate's Anthony Abbadessa, who entered the contest with nine points in five games. Abbadessa finished with one goal on three shots.
"It was a great team victory," said BU head coach Ryan Polley. "The team had a great week of preparation, and I thought Sam Talkow really set the tone at the faceoff. That really helped us turn the possession battle one-sided. Then our offense did a nice job — it was great to have Cal back. He hit his stride offensively and did a great job distributing the ball. And our defense was terrific. Starting with Carson-Banister, [he] made a ton of great saves [and] I thought Calisto did a great job on Abbadessa. It was an overall team win. It was awesome."
The game started off as well as it could for BU, as junior long stick midfielder Henry Lee notched his first collegiate goal halfway through the first quarter. Just 54 seconds later, sophomore attack Jack Wilson found net to give the Terriers a 2-0 lead.
Colgate got on the board 10:35 into the opening quarter, but BU freshman midfielder Brendan Homire responded right away, firing from 10 yards out for his sixth goal of the season.
After the Raiders made it a 3-2 lead in the second quarter's onset, Dearth scored his first goal of the day. Then, with Colgate scoring yet again with 4:38 remaining in the period, Dearth tallied in a remarkable fashion, falling down and regaining his footing before scoring from 15 yards out.
Freshman attack James Burr scored his 14th goal of the season to give the Terriers a 6-3 halftime lead. Dearth scored twice in the third quarter, and Polley noted how important it is to have the midfielder healthy again.
"It means a lot for us as a program," Polley said. "He's our best offensive player, and he's a primary initiator for us. He's such a great feeder. He gets everybody a pop. [He] makes everybody better. So it's just great to have him back and just making great decisions. We're obviously better when he's back, and he was terrific."
The final period was all BU, as it quickly pulled away from Colgate with three consecutive goals from Wilson and junior attacks Adam Schaal and Pat Myers in the first 10:06 of the quarter. The Raiders tacked on a goal with 1:01 left in the game, but it was too late, as BU already earned the win.
The game served as the third time the Terriers held an opponent to six goals or less. Led by Calisto and Carson-Banister, BU only allowed the Raiders 31 shots and forced 14 turnovers. As a result, Polley praised his defense.
"It starts with [assistant] coach [Stephen] Toomy," Polley said. "He prepares them very well and he's done a great job with our [defense] and [midfielders]. They really worked as a unit, so when one guy moves, they all move, and they were just really efficient today, and then Carson-Banister was just terrific. Anytime we made a mistake, he made huge saves."