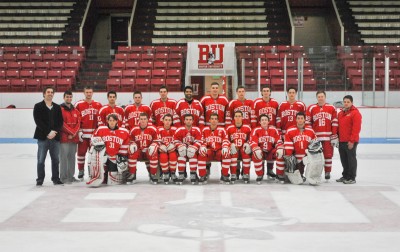 While Boston University head coach David Quinn and the BU men's hockey team will soon march toward the Frozen Four, there's another hockey team on campus readying its own national title bid.
After storming through the regional tournament as a nine-seed at the end of February, the club men's hockey team will travel to West Chester, Pennsylvania for this weekend's American Collegiate Hockey Association Division II National Tournament. Alongside 15 other teams, round-robin contests against Lindenwood University-Belville, The University of Utah and Miami University await, with the group's winner qualifying for a semifinal game and possibly the championship tilt.
Before those contests unfold, the odds are already stacked somewhat against the "Red Dogs." They're an underdog side that used a GoFundMe page to finance the trip and weren't recognized by BU Club Sports less than a half dozen years ago. However, with an upperclassmen-heavy squad, the team has a culture about it that makes upset victories in Pennsylvania a real possibility.
"In the course of the past three or four years, the seniors we've had have seen the team go from a two-win season to a 15- to 16- to 17-win season," said junior defenseman Jack Faso. "It's definitely been a huge transition over the last couple years, which is really attributable to the hard work and culture the seniors have brought about. They've seen that transition and saw what it takes to turn the program around."
A key figure of that about-face has been senior forward Matt Fineberg, who admitted that he and his teammates will have a chip on their shoulders this weekend. They lost in the club hockey Beanpot Tournament earlier this year to Northeastern University and haven't qualified at nationals before.
The Red Dogs also have two volunteer coaches and two hired coaches, and they practice twice a week off-campus at night, Fineberg said. The students themselves organize everything from scheduling to transportation to equipment. They might not be the talk of the town, but with a tight-knit squad that's already surpassed expectations, Fineberg believes anything is possible.
"We know each other well and have had a good time, and just the way we played this year and won the regional tournament, we've never been closer than we are right now," the senior said. "I think that gives us an edge over other teams because of how people talked about our team and how we weren't supposed to win and how we worked together. That's going to transfer into the national tournament, and who knows? We could make some noise."
Faso echoed Fineberg's sentiments, adding that he and his teammates form "a brotherhood like a fraternity" that translates to success on the ice. The guys take classes together, often hang out together outside of the rink and actively help each other search for jobs or internships. That sort of camaraderie has sparked the team's run, but there's also a high level of talent on display.
With an elite youth and high school background, hockey has always been a part of each player's life. The only difference nowadays is that they don BU's storied scarlet and white sweaters and fight for three periods alongside lifelong friends.
While the Red Dogs don't consider themselves to be in the shadow of legendary varsity players such as 1980 Olympic gold medalist Mike Eruzione, Buffalo Sabres star Jack Eichel or five-time NHL All-Star Tony Amonte, Faso said BU's storied tradition does trickle somewhat into the team's approach.
"It's a slight burden, but it's also something we pride ourselves in because people are going to expect us to be that good and we want to exceed those expectations," Faso said. "Now, we've taken ourselves to the national level. We're kind of creating our own little legacy."
Through the team's accession regionally and nationally, that legacy has already somewhat taken root. But Fineberg said what could unfold in Pennsylvania would be the icing on the cake, even if they're not favored to win it all.
That's not stopping the Red Dogs one bit, though, as their Cinderella run will be fueled by what they've done all season long — grind out wins.
"I'm so proud of how far the program has come in the last four years, and the fact we put forth all this effort just two weekends ago at the regional tournament was unbelievable," said senior forward Dillon Schuyler. "It shows me and the rest of the team that we can do it. We're able to play at the national level with these kids, and now it's time to get cranking and go get a national ring."