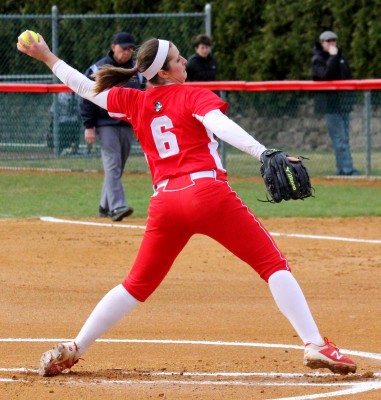 A bases-clearing double from freshman first baseman Alex Heinen was the difference in Wednesday's game, as the Boston University softball team was able to fend off Providence College in a 10-2 game that lasted five innings due to mercy rule.
Coming into Wednesday's game against the Friars (10-11), the Terriers (9-11) were looking to continue the success they had over the break in California, where they won four games in a row. During the break, senior pitcher Lauren Hynes was dominant in the circle for BU, pitching three wins, so it was no surprise to see her get the start in the home opener.
She continued her strong presence on the mound while at home. While she did allow Providence to break into the scoring column first with a third inning single from freshman Emma Lee, Hynes allowed just two runs on five hits, while recording two strikeouts and walking one.
For Providence, sophomore Christina Ramirez took to the circle and had trouble finding her control throughout the game. To start the game, Ramirez walked senior shortstop Brittany Younan on just four pitches.
Though Ramirez would only walk two in her three innings pitched, BU's batters were consistently able to fight pitches off, earning multiple three-ball counts. Following Wednesday's game, BU head coach Ashley Waters said she was happy with her team's ability to zero in on good pitches.
"I think the one thing we were consistent with was hitting good pitches and staying within our zones," Waters said. "I think when they try to stay within themselves and leaving the waste pitches, they just do a better job. I think they recognize the zones that they're strong in, so they utilize that to the best of their ability."
In the bottom of the third inning, the Terriers responded to Providence's threat quickly and decisively. Following a Younan groundout, sophomore right fielder Emma Wong worked a walk and was quickly advanced by singles from junior left fielder Moriah Connolly and sophomore third baseman Kaitlin Sahlinger. With the bases loaded, Heinen fouled off multiple pitches, tiring Ramirez before sending one deep down the left field line, driving in all three runs.
Providence plated another run in the top of the fourth via a sacrifice fly, but that wasn't enough. In fact, BU's bats were just getting started.
Ramirez went back out for the fourth inning and immediately hit both Hynes and sophomore center fielder Jilee Schanda. Senior Kiara Amos then replaced her in the circle, but the damage was done. Shortly after a two-RBI single from Wong and a safety squeeze off the bat of freshman second baseman Emily Morrow, it was Heinen's turn again at the plate.
While she didn't require another lengthy at bat, Heinen again showed off the power, launching a three-run home run high into the bushes of right field.
Waters said after the game that Heinen is dedicated to improving as a hitter, going so far as staying after practices for extra batting practice. Waters said that hard work is what led to Heinen's six RBIs Wednesday.
Heinen said she was excited after what Waters called a "brilliant" performance, saying that she was still in shock. While she relished in her two clutch at-bats, she made it a point to mention that Wednesday's victory was a team win.
"It was really good," she said. "Everything was falling into place. Both pitchers threw an amazing game. Everyone was coming together [and] we had great hits. It just felt really good being all together."
In the top of the fifth with the eight-run lead, junior pitcher Melanie Russell finished it out in the circle, allowing a weak single to center and nothing more. The victory gave BU their fifth in a row, and Waters said that the team's current streak is a good turnaround from what she believed was a slow start. She also added that the team is heading in the right direction.
"For us, we need to kind of get on a roll and feel that winning needs to be the consistency, not losing," said Waters. "Being close isn't the consistency, winning is. They owned it [today], and I feel like they did a great job. They seem to have an excitement and bounce in their step, so that's a good thing."