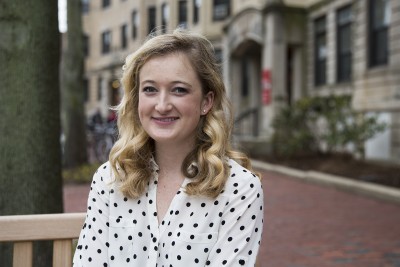 When Paisley Piasecki, a junior in Boston University's College of Communication, attended an event hosted by her favorite blogger and author last summer, she recognized a need for women. It was a need that inspired her to follow her entrepreneurial dreams.
The event, hosted by "The Champagne Diet" author Cara Alwill Leyba, forged a conversation among the approximately 50 female attendees about shared issues that women face in the professional world.
"They started getting on the topic of business education, and they started to all say the same thing: 'I wish someone had told me this when I was younger,'" Piasecki said. "I was sitting there thinking, 'I sort of know what they're talking about, but jokes on you. We don't really have that for college kids right now.'"
Then came Piasecki's solution — SheWerksIt. The startup website and brand aims to inspire college-aged women to find their passions and achieve career goals.
"I want girls to ask themselves, 'What are you doing today that will change your world tomorrow?'" Piasecki said. "It can be the world around you, your world at school, the world inside your head … the idea of your world can be anything you want it to be. But what are you doing now that is going to help you tomorrow and get you one step closer?"
SheWerksIt includes a blog called The #Werkbook, a calendar featuring networking and education-oriented events in Boston and #Werkshops that Piasecki leads herself.
She features "girls in the Boston area who are doing amazing things" in her blog series titled #BostonBabe, many of which have been BU students. However, she's using social media to enhance her platform and reach out to women at Boston College and Harvard University as well.
"I want to make sure it's accessible to every kind of girl in college, not necessarily just the PR social media maven," she said. "It's also the girl who's in STEM or the girl who has sports every single day after school."
For the workshops, Piasecki offers both take-home PDFs about finding and pursuing one's passion and in-person sessions teaching women to build websites. At a lower price than most web design classes, Piasecki teaches attendees to code and create their own blogs with her #WebWerkshops. Prices range between $30 and $65.
"I found these skills are skills we need to know as women in college," she said. "This is what's going to get us one step closer in our internships, in our careers later."
Piasecki is excited to build upon her startup and watch it grow. In the future, she hopes to add a mentorship component to the website where established women speak about their business endeavors and give career advice to college students.
"It's one thing going to the [Center for Career Development] and have someone talk about your resume and what internships you should be going for, but it's kind of based on a checklist method," she said. "Everything I've learned is from mentors I've found in my own life, so I want to help girls find those opportunities for themselves as well."
In addition to the mentorship component, Piasecki plans to expand her #Werkshops. She envisions ones that focus on life skills and organization, as "things get crazy when you're in college … There's a lot of times when we need to sit back and look at our priorities."
Piasecki hopes to inspire other young women to find their passions and follow their business goals. She emphasized that it helps to be both positive and open to new ideas when exploring career possibilities.
"Don't be afraid to dive in," she said. "A lot of times, you're going to run into people who say you need to have a marketing plan or a business idea. I think if you're going into something very economical, like a big store, that's important. But at the same time, when you're this young, you just need to go for it."