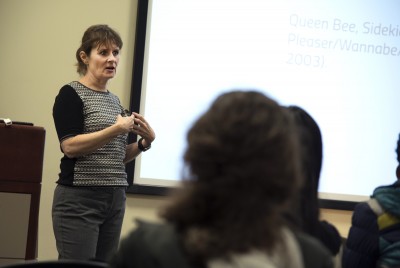 Remember when Harper from "Wizards of Waverly Place" was a total doormat to her manipulative "BFF" Alex? Let's not forget that one episode of "The Suite Life of Zack and Cody" when rich girl London loses a bet to be nice to her "friend" Maddie, the candy counter employee, for one single day. Even sweet, wholesome Miley from "Hannah Montana" picked on Dandruff Danny when the going got tough.
From the stereotypical mean girl to the likeable-but-sometimes-scheming character and her often dud of a sidekick, adolescent female characters on television often retort insults to parents, teachers and targets with cynical lines and snide comebacks.
Professor Patrice Oppliger opened her March colloquium in Boston University's College of Communication Wednesday afternoon with the line from early-2000s hit "Lizzie McGuire," among many other insulting lines from the category of young adult television she calls "tweencoms."
"What's your email, Lizzie? '[email protected]?'"
In her talk, "Mean Girls, Stealth Girls, Sidekicks, and Targets: A Thematic Analysis of Female Characters in Tweencoms," Oppliger spoke with a modestly sized audience of mostly COM students and professors about the lives of preteen girls.
The talk, part of the Communication Research Series, focused on network giants Disney Channel and Nickelodeon and the way they present "tween" girls in their programming. Topics of discussion included "Lizzie McGuire," "Jessie" and "Life with Boys" — not necessarily cable programming one would pin a seasoned television connoisseur to watch and analyze.
"I watched a lot of TV as a child," Oppliger said in an interview before her presentation. "I grew up on a farm. I was kind of isolated, so I used television a lot as entertainment and company. As I got in interested in studying the media, I saw changes in … television programming."
In addition to her interest in mass media effects, Oppliger, a COM professor and mass communication theory specialist, also concentrates on the influence of media and popular culture on the development of adolescents, an age group she said is often overlooked in communication research.
"I know some people study 'Sesame Street' with young children or teenagers and older adults," she said. "But there's just something about that adolescent period that I think is just so fascinating. They're very formative years. It's all the angst and anxiety — part of me just empathizes for them at that stage in life. I think it's underrepresented."
The channels target young audiences in their formative years by creating perfectly relatable characters that are enviable enough to draw viewers in but realistic enough to keep them watching.
"Two of my main points, especially with social learning, is that the girls are supposed to be relatable because the more relatable they are, the more invested they are and the more they're likely to imitate or learn from it," Oppliger said. "So the casting is very interesting because the main girl can't be too pretty, she can't be too fashionable. That's usually reserved for the mean girl."
Because the characters in these shows and movies follow this equation of empathy with the characters, Oppliger said she finds something interesting in the way these channels target these Slurpee-sucking, glitter-covered, preteen fashionistas who roam local malls nationwide.
"The tween market has an incredible amount of buying power because parents either give them guilt money, or there's always the nag factor where kids have increasingly more influence on family purchases like cars," she said.
The main point of the presentation centered on thematic analysis and "identifying the broad ways in which girls are represented," according to Oppliger's presentation. She also used examples from books "Queen Bees and Wannabes" and "Odd Girl Out."
In her presentation, Oppliger also discussed Albert Bandura's social learning theory, which is the way one learns by observing a behavior and its consequences. Oppliger said the presentation was important to educate those who attended about this theory, thematic analysis and how they can be used to think critically about vicarious behavior not only in tweencoms, but in all sorts of media.
"I think a lot of parents and people in society aren't paying attention to what's being shown in these shows, and I think its really molding the way people develop," she said during the interview. "This is a big part of their life — they're spending hours and hours watching. A lot of people are concerned with videos games, a lot of people are concerned with the presidential dialogue. You can do thematic analysis of how Donald Trump represents himself. It's more of a methodological tool that students and faculty can use."
After the presentation, Oppliger took questions from the audience. One student asked if Oppliger saw a shifting trend or pattern in aggressive behavior in these tweencoms over time. To that, Oppliger answered no. She said the same tropes of popular cheerleaders, clueless adults and over-sophisticated 10 year olds exist in shows from "Even Stevens" to "Girl Meets World" — the main girl, the mean girl, the target and the bystander.
Because, let's be real. Will preteen girls ever grow less catty? As if.